Abigail Leigh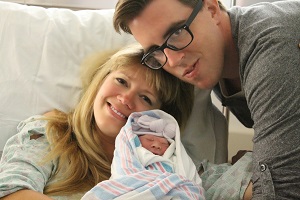 My Names is Hannah, and this is our story.

September 30, 2013 my husband and I found out we were pregnant just 7 weeks after our first pregnancy ended in miscarriage. We were very excited to be parents! Everything was going great until I went to our routine 12 week ultrasound.

The nurse said that she had to take a few measurements before I could see the screen. But then she turned on the lights and ended our session without letting me look at all. That's when I started to get nervous. She said she saw something that concerned her but didn't feel comfortable telling me what it was until I saw the doctor. So I waited 2 hours to see the doctor. He said that the baby had a severe abnormality that was not compatible with life, the baby had no bones in the head. He recommended terminating.

I was in shock. I went home and told my husband. We cried and talked all night. We do not agree with abortion, but this situation seemed much more complicated. We loved this baby, but it was basically just on life support in my womb. Was it even humane to continue the pregnancy?

We met with another doctor who gave us a little more information. The condition was called anencephaly, and there is no risk for me to carry to term, and the baby doesn't feel any pain in the head. We also looked online and found this website. I read all the stories I could! It was so moving to read about families who chose to carry their anencephalic babies to term and had a meaningful experience.

My husband and I made our decision the next day and never once had any doubts about it after that.

My pregnancy was so wonderful! I felt so special to be this baby's mommy. We found out it was a girl and named her Abigail Leigh. She was very active, and we found it easy to bond with her in the womb.

Some days were sad, especially shortly after the diagnosis, but we found much support through our family and church. They even threw us a baby shower! I treasured every moment I had with my daughter.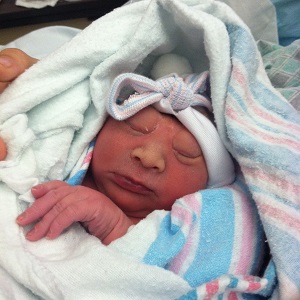 We decided to deliver via scheduled c-section so as to increase our chances of Abigail being born alive. So at 38 weeks I went in for the surgery. My husband and I certainly had mixed feelings. We wanted to spend as much time with Abby as possible, but knew that there was no guarantee how much time that would be. We had also read of some babies who lived several days or even months. That would be both wonderful and heartbreaking knowing that every second could be her last. So we prayed to God for peace and trusted that everything would go according to His plan.

Abigail Leigh was born May 31, 2014. She was 4 lbs 8 oz, and 15" long.

She was born alive!

She was beautiful! The nurses cleaned her up and brought her to me for some skin to skin time while they finished the surgery. She made the cutest little fussy noises and blew bubbles with her perfect lips. She had long fingers and toes just like her daddy, and soft blonde hair on the back of her head like me.

My husband and I bonded with her by ourselves for an hour, then the rest of the family came in to meet her. Everyone was so happy!

We loved on her for 11 hours that day. She was held the whole time by those who loved her.

Towards the end Abby was starting to struggle a little to breathe. That was scary because she would change colors for a bit, then we could lift up her chin and stimulate her and she would start breathing again for a while. We decided to put her on my chest again skin to skin. After that she didn't struggle anymore. Abigail went to be with Jesus peacefully while I held her close.

We miss our little girl very much. I look at her pictures every day and try to remember every detail. But even though I am grieving her loss, I am so glad we chose to have her. It was worth it for 11 hours of holding her. I also believe that I will see her again in heaven, and we will never have to say goodbye again.


Follow Hannah's blog
Last updated March 03, 2019