Save a baby's life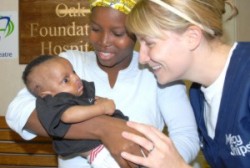 If you are visiting this site, you may be expecting a baby with anencephaly or you have already lost your baby. The death of a baby is for sure the most horrible experience a parent can make.

There is nothing that can be done to heal a baby with anencephaly...

Imagine that your baby had another problem, something minor that a simple surgery could fix and give you and your baby a normal life. But at the place where you life, such surgeries are not available or you don't have the money to pay them.

This is reality for many people around the world.

Babies die because they don't have access to medical care.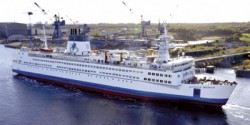 Imagine now a fleet of ships crewed by doctors, teachers, water engineers and agriculturalists visiting some of the world's poorest cities. Imagine their life-changing services – food, medical care and skills – offered free of charge...

This fleet exists! For over 30 years, the Mercy Ships fleet, crewed by volunteers from around the world, is bringing hope and healing to hundreds of thousands of people who could never have believed it possible.

Read the following stories, a few among many others, about how Mercy Ships changes lives:
Oceane's miracle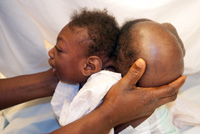 One-year-old Oceane had an encephalocele – a rare neural tube defect characterized by a sac-like protrusion of neural tissue through opening in the skull. A small gap, only 1.4cm wide, was the root of her problems. It allowed cerebrospinal fluid to escape from her brain and collect in the ballooning skin in the back of her neck, which formed the disturbing second head.

Her mother, Philomen, had brought Oceane to a Mercy Ships medical screening in February last year (in Cotonou, Benin). Upon evaluation surgeons thought they could help her. They planned on removing the mass and placing a small tube in her brain called a shunt. The shunt would drain excessive fluid from her head into her abdomen. But the earliest surgical opening wasn't until October. Philemon would spend seven months at home waiting for Oceane to receive surgery.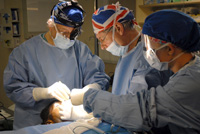 During that time, Philomen faced great discouragement. As the bulge continued to swell simple things like bathing Oceane began to scare Philomen. "When I gave her a bath, I never washed her head. I was scared the tumour would explode and the baby would die." Others began to mock Philomen saying, "Look at the horrible baby she has," whenever she went outside. "I never replied," she said. "I felt very ashamed and always stayed in the house".

Despite the discouragements around her, Philomen never lost hope that Mercy Ships could help Oceane.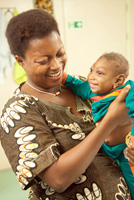 On Sunday 14 October she brought her to the Africa Mercy. The following day, a CT Scan of the brain would reveal if surgery was possible. The CT Scan spawned further discussions amongst the medical staff on the risks versus the benefits of her surgery. But finally, the medical team decided she could receive an operation. On the following Thursday afternoon, Oceane was taken into an operating theatre on board the Africa Mercy.

In the recovery room, while the nurses listened to her lungs and connected to her to a heart monitor, Philomen came to the bedside. When she realized the mass was gone, she was speechless. All she could do was stand by her bed and hold Oceane's hand.

Three weeks after her surgery, Oceane came to the Africa Mercy for her final post-op appointment. Holding a smiling and laughing Oceane, Philomen greeted us with an enthusiastic "merci, merci, merci beaucoup!"
A new start for Odilon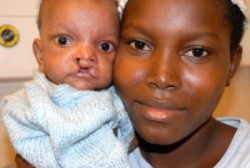 When her aunt delivered the tiny bundle, it cried like a healthy baby should, but 19-year-old Edwige could tell by her aunt's expression that something was wrong. When the newborn was placed in Edwige's arms, she began to cry. "Is this the baby I gave birth to?" she asked her aunt. The child, a boy, showed a disturbing hole in the middle of his face: a bilateral cleft lip and palate...

Despite her initial shock, Edwige's motherly instincts took hold, and she accepted her son lovingly. She named him Odilon. For a few hours, an exhausted mother and her child slept peacefully.

Then, just as quickly as Odilon had entered the world, their troubles began. Edwige's mother-in-law came and inspected young Odilon with repulsion. Because of his disfigurement, she called Odilon evil and inhuman. Edwige's husband was told to leave her to avoid bringing shame upon the family.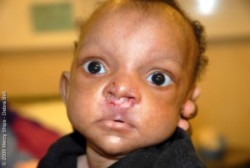 Faithful to her son despite the opposition, Edwige heard of Mercy Ships and began the long and arduous journey to the Africa Mercy docked in Cotonou, the main city, her son Odilon weighing a mere 2.5 kg. He was in such bad condition that the medical staff onboard the ship did not think he would survive for more than a few days. But after nearly seven weeks of feeding and care, Odilon weighing now 3.7 kg, was finally strong enough to undergo surgery.

The operation was successful. As Odilon lay quietly on his bed sleeping, he would suck on the new fleshy formation that was his upper lip. Odilon was brought back from the brink of starvation and given him a chance at a normal life. Once again, a miraculous transformation had happened on board the Africa Mercy!

Other children like Odilon are in need of treatment. 300$ are enough to perform a cleft lip and palate repair for a baby on the hospital ship Africa Mercy.
With 300$ you can save the life of a baby!!!
And save a mother the hardship and pain of loosing her baby.

A donation to Mercy Ships will help changing the life of a mother and her baby forever.

Learn more about Mercy Ships on their website www.mercyships.org
Last updated May 1, 2019