Charlotte Kathleen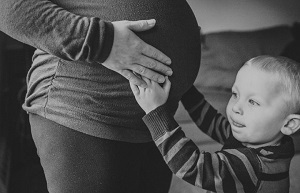 Diagnosis day till birth.... Cherish every moment like they are your last!!!

At 40 weeks 5days (Jan 15) we found out our precious little baby had Anencephaly, a birth defect with a low chance of life.

A few days later we decided we wanted to know the gender so we could give our baby a name and bond with our child while we could. I stayed positive hoping for time with Charlotte. I stayed pregnant and loved on her till 44 weeks 3 day, at which my blood pressure was high for me.

We were going to be induced which I wasn't ready and neither was my body.

Charlotte was born still after a horrible delivery. I almost lost my life needing new platelets in my uterus and a blood transfusion. After losing over 4 litres of blood and almost needing a hysterectomy...

Physically I had no pain I did not need any stitches.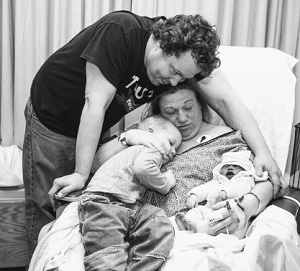 Coping with the loss of a child has been one of the most difficult things I have done. I am completely grateful to have an amazing doctor, staff at the hospital and support system. I am so grateful to be alive and here for my 3 year old. My son Oliver has been my rock through this whole experience, asking me "mommy you sad?", comforting with hugs and kisses telling me "its okay to be sad momma".

Right after delivery he met his sister and was in awe... He said "she went up she is home" and melted my heart. He saw her hand and nose and mouth and ears then he pointed out the booboo on her head but didn't see anything wrong with her.

It was harder on the older girls, Audrey 13 and Annelise 11, who both wanted a little sister.

They allowed me 3 days with my daughter's body to get photos, make memories and cry over her body.

People asked me why I didn't get an ultrasound done earlier; maybe subconsciously I knew and I enjoyed my pregnancy. I was happy and couldn't wait to have my baby in my arms. If I had found out earlier, I would have still carried to term but I probably would have quit my job, been very depressed and my other children would have suffered from it.

I am a strong believer that everything happens for a reason...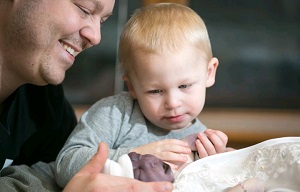 I'm still unsure of the reason I needed to lose my sweet little girl, but I know I need to be strong for my little guy!!

Then there are others asking why I didn't opt for a c-section... So many reason there... I had had 2 completely natural deliveries with no complications. Why would I elect for surgery that I would need longer to recover from, when in the end I still wouldn't have been able to bring my sweet Charlotte home...

I felt I needed to physically feel the pain to help with the emotional pain... If I had went through with the c-section, I probably wouldn't be here telling my story!!

Now I just take it day by day embracing my daughters memory!!!

Charlotte Kathleen Maceyka, born February 10, 2018 at 9:07pm.

Forever in my heart.

Samantha
Last updated April 2, 2019