Courtney Denise Choate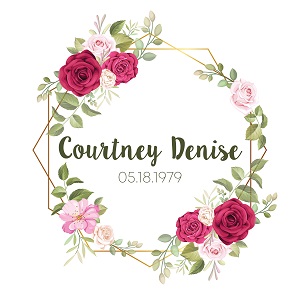 18 May 1979, 6:58 am

I found out I was pregnant in 1978 and that my precious little baby would be due approximately April 19th, 1979.

I appeared to have a normal pregnancy and everything was going along good. When I went past my due date, my doctor began to think something wasn't right. He could never feel my babies head and when she dropped, he still couldn't feel her head.

I knew that my baby was going to die, but the doctor hadn't told me. It was just one of those gut feelings that you have. Also, the babies father felt that the baby would die too and had told me so for the entire pregnancy.

When I went into labor it was May 17th, 1979. She was one month overdue and the doctors sent me to Xray. They knew then that she had anencephaly and they said maybe they were wrong. I was in labor the 22 hours and she was born. The doctors put me to sleep back then and I never saw her, held her or forgot her. She died three hours after birth and she was cremated by the hospital.

The only memories I have of her are memories of her kicking me, and being so alive inside of me.

I think of her almost every day.

I never named her, because back then, it was almost like you were told to just forget and go on.

Today, it is so much smarter to hold your precious angel and love her or him for as long as you can and then cherish those memories.

I know, one day, I will see my little angel again.

A dear friend told me, "the angels are singing and your little girl is with them, and always, always remember... Heaven is just a little sweeter now"... She is right. Heaven has got to be a wonderful place, filled with all of our "special little angels".

I went on to have two more healthy children, now in their twenties. By the way, my second daughter's birthday is two days after my first daughter's birthday.

The contact with other affected parents made me aware that I really can still name my little "angel". I gave it a lot of thought this weekend and I came up with her name. I want to name her "Courtney Denise Choate". I now realize how much it would have meant to me to hold her, name her, and love her, but back then you were just told to "forget her". I never did forget and I always have loved her. So her name is going to be: Courtney Denise Choate.

God bless each of you.


Last updated May 18, 2021