Faith and Sarah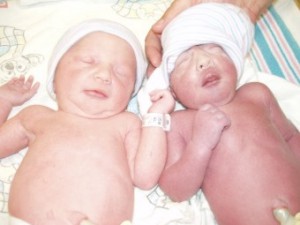 On June 24, 2005 at 1:25 a.m. I delivered a healthy baby girl named Sarah. Four minutes later at 1:29 a.m., I delivered her twin sister, Faith who had anencephaly. My husband and I were fully aware that our precious daughter Faith's life would be shortened quickly after birth. Although we knew for five months prior to birth about her condition, the loss of pain still exists. We named her Faith because our Faith in God is what got us through this journey.

My story begins on December 1, 2004 when my husband and I went to the doctor for my first check up after finding out I was pregnant. We were so thrilled to find out that we were having twins! We immediately got on the phone and shared the wonderful news with family and close friends. For the next two months, all we could talk about at our house was the excitement and anticipation of having twins. We have a four year old daughter named Maggie who was so excited about being a big sister of two babies.

On February 8, 2005, I was 16 weeks pregnant and went to the doctor for a standard check-up. I asked the doctor if we could have a quick ultrasound to find out the sex of each baby. While having the ultrasound, the ultrasound Tech told us that each baby was a girl. We were thrilled! The ultrasound Tech got up and said she would be right back. My husband and I looked at each other and wondered with confusion of what was happening. We thought if there is something wrong we can handle it. Never in our wildest dreams did we think the news would be this devastating.

The doctor came in and told us that there was a problem with Baby B and she would not survive long after birth. We were completely devastated! This was so hard to believe because as he was telling us this horrible news, I was watching both babies heartbeats on the screen. How could this be possible?

The doctor explained to us that we had a decision to make; to terminate the baby or to carry her until birth.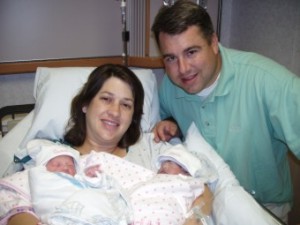 For the next few days, we met with a perinatologist to find out specific facts about this rare neural tube defect. Most of all, we did a lot of praying.

We decided to carry our sick baby until birth. For the next few months, she grew inside of me and kicked like a normal baby. We went to the doctor weekly and had ultrasounds. Each week I saw them on the screen cuddling with one another. I became more and more emotionally attached each and every day.

During my pregnancy, I remained on an emotional roller coaster because I was beginning to grieve for the upcoming loss of my baby girl, Faith, yet, I was so joyful about the life of my other baby, Sarah. We were planning Faith's funeral and at the same time fixing up Sarah's nursery. This was crazy!

At 24 weeks pregnant, I quit my job under the doctor's orders because having twins puts so much pressure on one's cervix. I was not on bed rest, but I did take it easy for the next 2½ months.

Both babies continued to grow bigger and develop normally, except for Faith's head. At 35 weeks, I developed Polyhydramios, a build up excessive fluid in Faith's sac. At the end of my 35th week, my water broke at home in the middle of the night.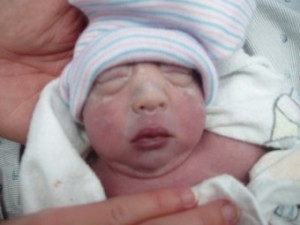 My husband and I rushed to the hospital to be prepared for a C-section.

Sarah was born first, then Faith four minutes later. Sarah weighed 5 lbs. 6 ozs. and Faith weighed 4 lbs, 3 ozs. When Faith was brought over to me, her heart rate began to decrease. I began to talk to her, then her heartbeat went up to being normal. My husband and I had written out a birth plan before going to the hospital. It stated that we wanted to hold her immediately and keep her with us for the entire time she was alive.

While pregnant and leading up to delivery, I had always panicked when thinking about my time that I would have Faith. The opposite feeling occurred after delivery. I ended up having a peaceful feeling because I wanted to cherish my time with the girls together. I knew I couldn't turn back time. I am so thankful that both girls were able to be together the entire time. We were so fortunate that Sarah never had to go to NICU.

We were able to get many pictures of Faith and the twins together. We got her footprints, lock of hair, and put her in a cute nightgown and monogrammed cap.

I will cherish all of this forever, especially her pictures. We were also so happy to have given our close family members and friends the opportunity to hold and love on Faith as well.

While I was pregnant, my husband and I did a great deal of research on Anencephaly and had looked at many pictures of babies with this defect to prepare ourselves. With her cap on, Faith looked like a normal newborn. However, when it is your very own baby, it doesn't matter what she looks like because she was a part of us.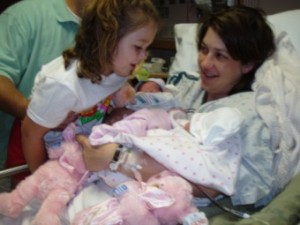 Seven hours after delivery, Faith went to be with Jesus in Heaven. Although, I knew I would have to say good-bye to her, it was still the hardest thing I have ever had to do. I went through so many emotions because I knew I had to say good-bye to one baby and then saying hello to another.

Everyday I look at Sarah and wonder what Faith would have been like or looked like here on this earth. But, then I reassure myself that she is in Heaven. The only home she will ever know and one day I will be there to hold her again.


Last updated July 10, 2019