Gabriel Jude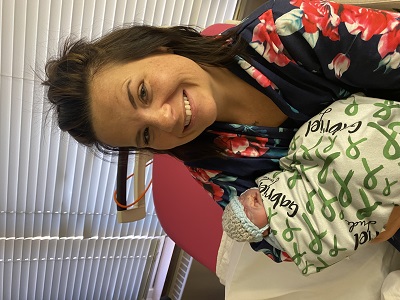 October 13, 2020 - October 16, 2020

May 20, 2020 - A day that changed our lives forever.

I was 16 weeks pregnant and had an ultrasound scheduled because of some irregular spotting. My last two pregnancies I had delivered prematurely, so it was a peace of mind check-up. Looking back at it now, my husband, Chase, and I were completely oblivious that something was wrong during the scan - the silence, long waits when the tech left the room, even saying that the doctor wanted to see us after - we had no idea.

What we were excited about was to find out we were having a boy! - our third (we also have one daughter).

I went to the doctor's office alone because of COVID regulations, plus I really didn't think anything was amiss. Even the solemn look on the nurse's face didn't clue me in.

When the doctor told me that our baby had anencephaly, everything she said afterward was a blur.

I had never heard of anencephaly, but she had to have told me in some way that it meant our baby was incompatible with life. I remember her showing me the image of his head and wondering how I couldn't see it before.

I called Chase and my mom with the devastating news. He came shortly after and we just hugged and cried in that doctor's office over lost hopes and dreams for our little boy.

I still remember having to tell our children. They were so excited to know if the new baby was going to mean a brother or a sister. After our visit with the doctor, they came running to us wondering if it was a boy or girl. We told them it was a boy, but then we had to break the news. We told them that their baby brother had an owie on his head and that after he was born he would be going to heaven.

That day was rough, informing close friends and family of the diagnosis. That same night as we laid in bed we decided on the perfect name for our little boy... Gabriel Jude.

Gabriel means "God is my strength". He is named after Saint Gabriel the Archangel, since he would be our most precious angel in heaven. His middle name, Jude, is after Saint Jude, the patron saint of lost causes.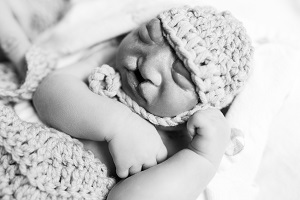 That night, I also made the decision that I was going to honor Gabriel's life. I was determined to make our little boy known, to have his short life on Earth have meaning.

After researching anencephaly, I had come across a few stories of moms and dads that had created sort of a bucket list with their little one and documented their time with them. After some consideration, I knew that's what I wanted to do. I created a Facebook page and called it "Gabriel's Journey". We were going to tell our loved ones, friends, and anyone who wanted to follow, about our sweet boy's life.

That summer we tried to do as much as we could with the time we had with our little boy. We didn't travel far, we didn't do anything too extravagant, but the memories we made with our family and Gabriel will last a lifetime.

Time flew by and before we knew it, delivery day had arrived. The night before we decided to honor Gabriel's life with a "birth"day party. We invited our closest friends and family to celebrate him - with laughs, hugs, and cake!

The following morning we went in to be induced at 37 weeks. We thought it would be a quick delivery, but Gabriel had something else in mind. My longest delivery yet, he waited almost 30 hours to make his grand entrance.

It was absolutely wonderful!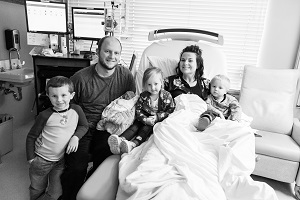 He was born on October 13, 2020 at 11:19 am weighing 4lbs, 12oz and 16 ½ inches in length. Our little Gabriel had pale blue eyes when he opened them. He had a cleft lip and palate that made his smile so big that it lit up the entire room. He had long, dark hair at the nape of his neck, and his ears were absolutely adorable. His long fingers were always wrapped around his mommy and daddy's.

That was my favorite, holding his tiny hand.

We had him baptized and confirmed right away by our priest; that was important to us. Then we loved on him as much as we could. We just didn't know how much time we would have.

Gabriel was a fighter, and he blessed us with the most amazing 66 hours! We were even able to take him home. There he was spoiled with affection from everyone around him, including his brothers and sister. They adored him and never looked at him any differently.

Gabriel passed away on an early Friday morning in his mommy and daddy's arms. If love could have saved him, he would still be here. However, if he had to leave us, it is how we would have wanted - at home, surrounded by his family and love.

Our Gabriel was absolutely perfect in our eyes. He was such a blessing to us all. I am so thankful that God chose me to be his mom; I wouldn't have traded him for anything in the world. He gave us the most wonderful 66 hours that we never expected. He made us so proud. We love you with all our hearts and miss you so much Gabriel.

Until we see you in heaven...

Love, mommy
Last updated November 29, 2020