James Henry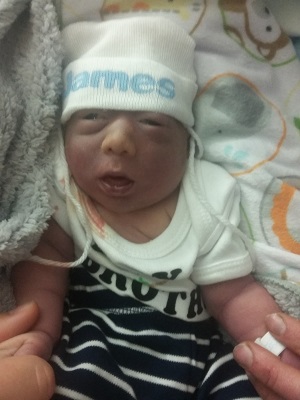 In August of 2016 we found out that we were expecting our third child. The first few months of the pregnancy went great, and a routine ultrasound at 12 weeks looked good. Everything seemed to be going well.

When it came time to schedule our 20 week ultrasound we scheduled it for my husbands birthday, December 13th. We went in excited to find out if we were having a boy of girl. I was sure it was a girl because we have a son and daughter already and this pregnancy seemed much like when I carried my daughter.

Oh how wrong I was, we found out that we were expecting another boy.

The ultrasound seemed to be going well, but looking back on it now the tech seemed to be staying away from the head. We were then excused to see our doctor. The doctor came in and said that she didn't want us to worry but something looked wrong with our baby's head. I broke down, I never dreamed anything could be wrong with our precious baby boy. The doctor left the room to consult with another doctor and they both came back in together.

We were then told that it looked like our baby had anencephaly, but they were waiting for the radiologist to get back with them. Within 10 minutes the radiologist had called back to confirm that our baby did have anencephaly which is fatal.

We were devastated, we knew exactly what this diagnosis meant because my husband had three siblings that were born and died of anencephaly.

We cried and held each other for awhile and they told us to take our time and not worry about checking out when we left. We were trying to comfort each other with the knowledge that God would see us through this.

The next week we were scheduled to see a Maternal fetal specialist doctor. We had another ultrasound there and then met with this doctor. He was horrible, and started out by telling me that it was my fault that my baby had this condition because I didn't take enough folic acid. Then he went on to tell me that our only option was to terminate the pregnancy. We said no, we are carrying our baby for as long as God allows. The doctor then informed us that we would deliver a dead baby if we chose to carry to term. After that we continued to see our regular OB doctor who was very kind and caring, she treated our baby like a normal baby.

After doing some research we came to the conclusion that the best hope for our baby to be born alive would be scheduling a C-section delivery. Although our doctor was hesitant to do a C-section because medically there would be more risk to me, she agreed to do one because we asked her to.

Our C-section was scheduled for April 13th 2017, I was almost 38 weeks.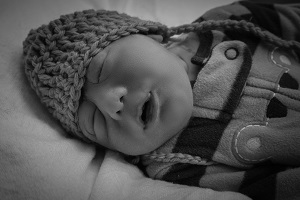 Our baby James was born at 8 am breathing and heart beating. His heart beat was quite low so we had the neonatal team deliver some oxygen and his heartbeat went up to a normal level.

In recovery we had a photographer from Now I lay me down to sleep come in and take lots of sweet pictures our our precious baby boy.

James weighed 5 pounds 3 ounces and was 16 ½ inches long.

We had a very wonderful day spent with many family and friends visiting.

At 6pm our sweet baby James stopped breathing and went peacefully to Heaven to be with Jesus at around 6:10pm when his heart stopped beating.

It was such a hard day, but God blessed us with so much love and peace that day and God continues to comfort us as we walk this journey of grief. We are so glad that we chose life for our James and for the amazing 10 hours we were blessed to have him in our arms. We will carry James Henry always in our hearts until we can carry him again in heaven.

Chaeli
Chaeli can be contacted through the webmaster
Last updated April 6, 2019