Jason and Carson were identical twins, they were in the same sac and shared the same placenta (monoamniotic and monochoronic twins). Jason had anencephaly and there was a big danger that both boys would die due to a cord entanglement. At 26 weeks, Jason and Carson's mom Leah was admitted at the hospital to be closely monitored until the babies' birth. The boys were born at 32 weeks by c-section on July 16, 2009. Jason was 2 pounds 1 oz and 13½ inches long and was born first. His little brother, Carson, was born a minute later and weighed 3 pounds 9 oz and 15½ inches long.
This is the eulogy Jason and Carson's grandmother Cindy wrote for Jason's funeral:
Memories of Jason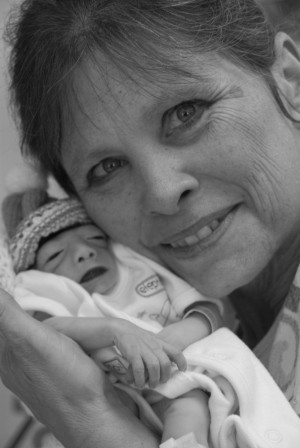 Jeremy and Leah asked me to speak to you today about Jason. I think I can do this.

What a joy to stand here and tell you about my grandson as we celebrate his very short life. Jason was an identical twin and he, and his brother, Carson, were in the same sac and had only one placenta. They had each other from the very beginning of God's creation. Only Mommy and Daddy met Jason while he was alive and a handful of us met him after his passing. Some of us knew him well before his birth – his mommy knew him best, yet his daddy and grandparents watched with baited breath for each new glimpse on the sonograms or the movements felt from their frequent kicks.

Oh, the joy of watching Carson and Jason move around! Playfully and spirited – always giving the nurses a good game of hide and seek!

Sometimes the nurses would find Carson snuggled on top of Jason; yet, other times they would find lots of feet and lots of hands; and, oh did they love showing off their boy parts! Daddy loved telling the story one day about a boxing match... with so many arms and hands who knew who did what to whom!

They seemed to play all day. One day about two weeks before the delivery Leah's belly began to move erratically---strange jerking movements. Panic set in, we prayed every second ... "please God, don't let them be entangled"...the seconds turned into minutes and upon review of two doctors and a nurse it was determined that both boys had ... the hiccups!
All we could do was laugh!
And give thanks to God for his humor!

Jason loved being first and he held that position until birth – yes, they would switch around but he liked keeping Carson up high and he loved being in the lower position. Sometimes the nurses would only find one heartbeat causing them to take another look for the boys and it was usually Jason who was so elusive. He was constantly on the move.

To us the bond seemed strong. The snuggling, the hiccups, Jason's eyes and the well formed head of Carson. They were easy to tell apart but identical in so many other ways.

They were a perfect package thus proven by the doctors amazing report of the umbilical cords after birth. They had never seen anything like it and drew us a picture of what they had seen. The cords were tied in a loose knot in the center with two loops on both sides. Our package of twins were delivered gift wrapped! The loops and knot resembled a bow. Another reminder to us that God was saying, "Do not be afraid; have faith."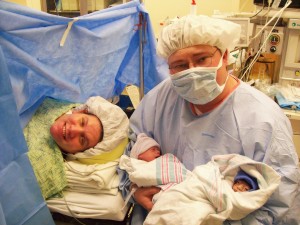 We always tried to have faith and as we look back upon those few months, I wonder what will I remember most and I know that there will be many things but here are a few that I will always praise God for the experience of a lifetime as I will never forget my little grandson, Jason.

I'll remember the first sonogram before we knew they were twins and daddy jokingly said to mommy, "Hey honey, what if it's twins!" And sure enough, it was!! Two minutes later... I asked the doctor if the second heartbeat was a thumping foot. No... It was Jason!! Two tiny peas in a pod...one pea: Jason, obviously a bit smaller than his brother but so close in the sac that they seemed to touch each other.

I'll remember our UC San Francisco appointment in April when we had been told previously to that visit that the doctors would discuss ending Jason's life. We were so heart broken... How could God leave Jeremy and Leah with such a decision?

Prior to the discussion of options, we sat quietly in the sonogram room, each praying our own selfish prayers: "please God show something different... make Jason whole."

Yet as we sat in that small examination room and watched the boys playfully move about... God took the opportunity through Jason to speak to our hearts and touch our souls. As his daddy, great grandma Ginny and I watched, Jason raised both hands to his beautifully formed lips in a praying position. Great grandma Ginny turned to me and said, "Look he is praying for us!" In my heart I felt he was telling us that God was in control and everything would be okay.

We did get through that day. As Jason's parents listened to the doctor's choices they realized that God left only one door opened and they chose to keep both babies and bring them to term. As parents, we could never be prouder. They left the choices to God and though the road was long and hard Jeremy and Leah never looked back for even a moment.

I'll remember the nurses walking into Leah's hospital room saying, "ok Jason, quit fooling around it's time to be found!" His favorite game was hide and seek; his favorite friends to play with were the nurses. Some of our favorite nurses were Melissa, Cheryl, Paula, and Rachel. They would find him for a while and then he would take off again, seemingly to say, "catch me if you can, I'm the gingerbread man!"

And those eyes – always our Jason, made special by God for reasons we will never know. I believe Jason existed because he was his brother's healer. God made Eve from Adam's rib...Carson was made whole by Jason, our little healer. Jason performed his job well and on the day of his birth, God said "Jason, you're too perfect for earth; come home to Heaven with Me."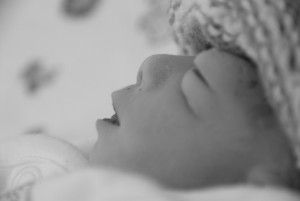 I'll remember his first and last bath given by his great grandma Ginny and me; his locks of hair just behind his ears; and his perfect little body from his nose to his toes. I'll cherish my time with his Aunt Cyndel as we made imprints of his beautiful feet and hands; but most of all I will cherish those moments I spent cuddling and kissing him from his flat little head to his tiny little toes.

Each member of our family will remember the prayers, the blessings and tears we shared with other family members and friends; all because of a little baby named Jason who touched our lives during these past few months in a uniquely different sort of way. Just look at the lives Jason has touched because his parents left the choice to God; praying for the miracle we all selfishly wanted; but understanding in the end that God wanted him more.

Jason's daddy asked me to share with you today, the last few moments of Jason's life...

Mommy was still in the operating room and both boys were in their bassinets outside that room. Jason made a fuss in his bassinet and daddy turned to him, he said, "Jason, Jason!" Jason responded by raising his arms and kicking his feet, and then looked upward at his daddy with his milky gray eyes. His Daddy picked him up and brought him to his chest... Jason took two last breaths and passed from his Daddy's arms into the arms of Jesus.

From the joy of the births, to the passing of Jason to the hurdles facing his brother Carson our family has gone from one extreme to the next and some ask why? I can only say I don't really know why –only God knows but I do know that for seven minutes on a hot July day my son and daughter-in-law experienced a touch of heaven that only a few will ever see: A touch of heaven so perfect; so precious that God graced us with joy and heartache at the same moment.

In that moment the overwhelming joy for me will always be the memory of his Daddy holding him tightly in his arms just outside the operating room after he passed away saying, "Mom, isn't he beautiful?" And realizing that there is nothing more beautiful or precious in God's eyes than our little Jason; incompatible for our world but made just right for Heaven!

Yes, Jeremy, Jason was the most beautiful baby in the world and you were blessed to be his Daddy and Leah, to be his Mommy.


The black and white photos were taken by a volunteer photographer of "Now I lay me down to sleep. They had two photographers photograph maternity photos and birth photos. It is done at no charge to the parents and they were extremely professional and courteous. I will always be deeply appreciative of the memories we have because of them.
Last updated April 6, 2019