Joshua Philip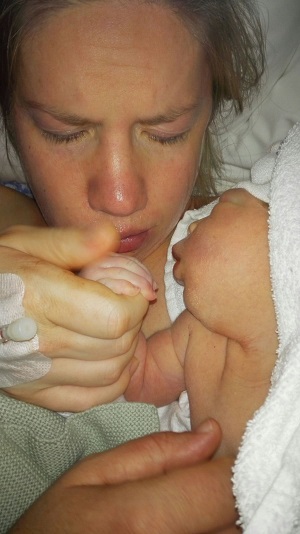 God blesssed us with the life of our sweet little Joshua Philip, we will never forget him or what God has taught us through his short life.

The 28th of January 2017, we found out I was pregnant, we were delighted and surprised too! This was our second child, a sibling for Kaleb, another blessing from heaven. Time went very slow that first trimester, I spent lots of time laying on the couch due to morning sickness.

Soon we were on our way to our first ultrasound, we were delighted. Now I look back and see how God was preparing us, I had been anxious about our son having a malformation, but God flooded my heart and mind with His peace and reminded me to live each day at a a time.

The 28th of April we drove to the hospital. Just before we went in my heart was pounding, maybe there is something wrong with our baby...? I thought... After a few minutes, the midwife said that there seemed to be something wrong with our baby's head, and called another midwife in to confirm her findings, then they told us that he most likely had anencephaly, I had never heard of this malformation.

After that two doctors came. Nobody said much and I finally asked them: if what you suspect is true, what are our options? The doctor said they would start the procedure to abort, I knew that I couldn't live with that, that God gives life, how could I decide when my son should die or not?

The doctor told me that of course no one could make me abort and we were given the option to get another ultrasound at a more specialized hospital, but we would have to wait another 6 days.

On our way home from the hospital, we both knew without doubt that having an abortion was not an option, but we had so many questions... Why? How did this happen...?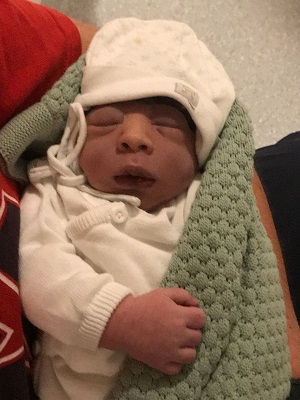 We broke the news to our family and close friends. Many people sent messages of comfort, support and encouragement, and our friends and family embraced us, we are very thankful for them.

Finally the day came for the ultrasound. We hoped and prayed that they would tell us everything was okay... but it wasn't. We were given another appointment for another ultrasound with another doctor... it was confirmed, our son had anencephaly.

Once more they told us about our options, but we knew it wasn't our decision to make, God gives life and we trust His ways are perfect.

The days to follow were very tough, we were heart broken, suddenly life just stopped. But little by little we got back on our feet and tried to stay busy. Our first son, Kaleb, helped us also carry on with life, and we are so thankful for him. He is full of energy and he sure does keep us active to this day.

Even though there were difficult days and nights, God gave us strength, joy and peace in the midst of it all, and still does. We find comfort and inspiration in the stories of other families that have also gone through the same situation as we did. We cherish the moments we had with our son in the midst of the pain and uncertainty, each kick, each ultrasound...

We bought him some clothes and prepared for his birth the best we could, we hoped for a miracle but most of all we prayed that God would help us accept His will.

Time passed by very slow and at the same time very fast, suddenly we were a few days from the due date, we decided to ask them to provoke the delivery.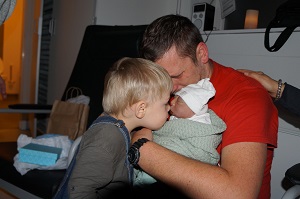 After four long hard days of waiting, Joshua Philip was finally born, five days over due date the 5th of October, he didn't cry, at first, we didn't even know if he was alive but when we saw him we knew we had done the right thing without a doubt, it was worth waiting nine months just to see him.

There was silence in the room, and suddenly he started to cough and breath in my arms, we were so thankful we could hold him and be with him for almost seven hours. We laughed and cried, Kaleb, his big brother, kissed him and shared his favorite cow toy with him, my parents were there and were able to hold him too, Joshua Philip was loved and cherished and we miss him deeply.

His passing was very hard, but we know he is in a better place, he has left deep foot prints in our lives and hearts reminding us that this is not our Home, one day we will also meet our Heavenly Father face to face and He will wipe away all our tears and sorrow. Revelation 21:4.

We pray Joshua Philips story may also be a light of hope to others, as he has been to us.

Amber

Amber can be contacted through the webmaster
Last updated July 9, 2019