Juliana Lucille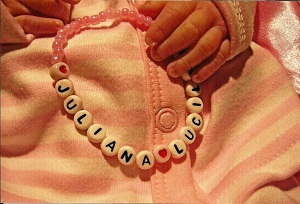 It was about 3 o'clock in the afternoon and I am laying on the couch watching the typical daily smut that is on television. It never really crossed my mind that I was pregnant. I actually spent more time thinking that it was not possible for me to become pregnant again since my first born 13 years ago. I do not know what came over me but it was almost there was a tiny voice in my head that said "Run to the store and get a pregnancy test." So, I laid there thinking I was just crazy and the thought will soon pass. It didn't pass. I got my shoes on and ran to the dollar store to buy a test because I simply couldn't see paying thirteen dollars on a test that was only going have a negative sign anyways.

I returned home to the bathroom to urinate on a stick that is going to yell out a negative sign in the blissfully pink color. I even stepped away to go load the dishwasher thinking I didn't have a thing to worry about and it was just my silly subconscious playing games with me. I begin to waltz up the stairs ready to throw this test in the trash and go on with my daily rituals. I looked on the sink counter top to see that my negative sign wasn't so negative. I was IN FACT pregnant! No, this can't be. Not me! I haven't been able to conceive in thirteen years! This test has got to be wrong and it is probably because I opted to only spend a dollar instead of spending a little more. I walked away from the test and phoned one of my girlfriends to tell her. It was like she already knew why I was calling her. I didn't even have to tell her. She says "Julie, you're pregnant, aren't you?" I stopped and said "Yes, but I don't think it's possible and this test has got to be wrong!" I told her about it being a dollar store test and I don't think they are that reliable. It was almost as if I was simply talking myself out of the inevitable.

During this day of finding out I was pregnant; my mother has also found out that she had a lump in her breast a few weeks ago. She was scheduled to have a biopsy done the next following day. I think for once in my life I have never seen my mother silently sit in a chair by herself without muttering a word. She is not one to discuss her health and even seem a bit worried. For this day, she did. I was inside my kitchen watching her sit on the chair on my front porch. I pretended to be feverishly working on my homework for school. I couldn't think straight to be drawing grids and applying the necessary data. I never told mother my most recent news because I didn't want to upset her.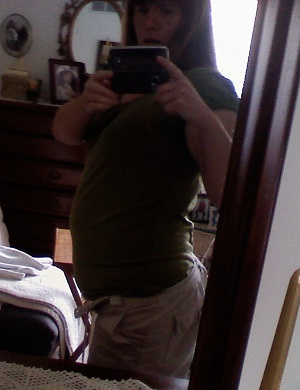 At this point, my friend Stephanie was the only one who knew of my pregnancy. I have yet to tell Matt. The relationship with Matt was back and forth and he didn't seem to be the person I had in mind to be a role model for my 12 year old son, let alone the father of my newborn. I continued to see him though "under cover" (no pun intended). I was not sure due to circumstances if I was even going to tell him because I never really saw us as a couple or even as a family. But I knew I had to say something, so I called his mother and told her to pass on the information to Matt. She was not happy about the idea but I knew my mother would not be either. After he finds out he calls me in a drunken rage and tells me that it isn't his baby and I must have been whoring around with someone else. I didn't say much to that because I only wished I had. A few days went by without talking to Matt and he seemed to have a few days to think about things and he called me to tell me he wanted to be a part of this baby's life. I wanted to give him the benefit of the doubt of being a father. Thinking that this was God's way telling him that this will be his last time to make it right and take care of his babies. After all, it was his seed growing inside of me and what choice did I have to not even give him a chance. BUT, I was not going to put him on the birth certificate nor even ask a dime of child support.

The day comes and it is going to be my first visit to the OB. It's been 13 years since I have gone through all of this and I was nervous and emotional. I hate having blood taken and I knew they were going to be taking a whole slew of blood as if I were to be a human pin cushion. Matt joined me in going to see the OB to hear of what was yet to come and also supported me through those nasty vampires who only wanted my blood.

After leaving the doctor's office I set up my appointment to be seen in a month to see the further progress of my unborn baby. During this time I received a phone call from Matt listening to some crazy female in the back yelling things like "your face isn't pregnant, bitch!" and I decided for the safety of myself and my baby that I needed to call off letting Matt support me throughout my pregnancy. A month goes by and I anticipate viewing my babies face and hearing the heartbeat for the first time with pure excitement. I brought my 11 year old son with me because I wanted him to be as much a part of this baby's progress as much as I was. At this time I was 16 weeks pregnant and the doctor slops that nasty cold Surgilube on a stick with a camera to get a first glimpse of my baby. I viewed my fetus with tears running down my face knowing that the pregnancy hormones had surely taken over. The doctor was taking his time to check her size and even exclaimed "Oh, look, the baby is waving at us!" Then he stops and gets out of his chair to tell me he will be right back. I tried to not think there was something wrong with baby. He comes back to tell me he wants to see me in another month but in the mean time he wants me to have more blood taken because with my age I am a candidate to check for Down Syndrome and things of that nature. I actually initially refused this test because I did not care if my baby had been born with Downs and I would still love this precious soul no matter what.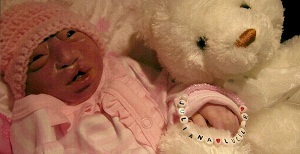 My next appointment I grabbed my son from the school bus to go to my visit the OB to hear more good news about my babies' progress. Not knowing I would be having another ultrasound the doctor once again pours that cold and slimy Surgilube all over my protruding belly and rubs the camera over it taking several different pictures without saying much. I figured no words are better than some words, so my baby must be just fine. He gets up from his seat and says "I'm going to ask your son to go into the lobby because I need to talk to you." My son leaves the room and the doctor shuts the door abruptly and says "I'm sorry to inform you of this but I believe your baby has an anomaly. My diagnosis is not compatible with life and your baby may not make it through the pregnancy and most won't likely survive outside of the womb." I'm thinking..."An Anomowhat? Who does this guy think he is kidding? There's NOTHING wrong with MY baby. I just saw it! On the screen! My baby had all 10 fingers and 10 toes! Usually that is what constitutes a healthy baby, right? "... Then the doctor says "I want you to go to Riverside tonight for a second opinion... another ultrasound." I wasn't going to go. I wasn't going to face this. As a matter of a fact, I was not even going to take a second to even believe this quack!

That same week I managed to set an appointment at the St. Ann's maternal fetal medicine office to get my second opinion. Friday morning at 11 am, I am to face my worst fear. A girl walks in to take several pictures of my baby as I watch the screen looking for this "anomaly". Nope. I still don't see anything. I asked her to find out the sex of my precious love. The baby was moving all over the screen. The heart was beating at a normal pace. The kidneys looked to be developing. Spine appeared to be straight. I even counted 10 fingers and 10 toes. She pushed the camera into my belly to get in between babies legs to get a glimpse of my baby's sex. "Ms Pauley, it appears this baby has labia's so it's for sure you are having a girl." "I'm having a girl! I'm having a girl!" I exclaimed. I'm surely going to have to change my frame of mind and look for all things that are pink and filled with gumdrops and lollipops! She leaves the room and calls the doctor in. He says "you already know why you are here, right?" I said, yes. Waiting for the big bomb to drop he says "Your doctors findings are in fact correct and your baby has Anencephaly." He gave me the list of options of what I could do. I could birth my baby within a week and walk away. I could partially birth abort the baby (which he highly recommended) and I could walk away. OR, I could go through the pregnancy full term, but might not be my best idea.

I left the hospital asking God why he was doing this to me. I had lots to think about. I wasn't going to involve Matt in the decision but I wanted to let him know what was going on with my baby girl because I thought it was best. He insisted me abort the baby because even if it lives it will be deaf and dumb and who wants a deaf and dumb baby! I would think and think and often my thoughts were followed by a "sigh". I knew deep down I was stronger than this and these people are not God and they aren't going to take my baby, nor was I going to give it to them.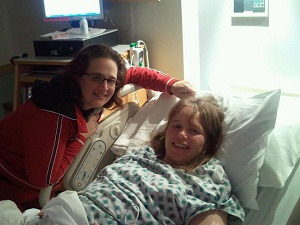 A week later, my OB doctor called me asking me what final decision was to be. I told him that I am going to carry on the pregnancy in hopes of miracles. I was shocked by his support and words of joy. He was happy that I was going to follow through the pregnancy. I knew right then, I was making the best decision.

Appointments come and go and my precious little girl's heartbeat sounds great and her movements are all over my body. My bladder took a pummeling while my rib cage was the latest crafted jungle gym. Feeling her move inside me was just reassurance that she was still alive and we were going to make it through this pregnancy. It was getting down to the wire and getting closer to my baby girl's birth date. The second before my last appointment the doctor said he wanted to do an internal exam. My last appointment he did the internal exam and said I was 1 cm dilated and he wanted me to come back the next week to have another exam and discuss the birthing options because he thought my baby was breech. Now I'm beginning to freak out! Breech baby means a C-Section!! I have never been cut on in my life! There is no way my anxiety is going to be able to go through that and they might have to sedate me to get me through but I didn't want to do that either. At this rate... I'm not comfortable. I can't sit because sitting makes me have to pee. I can't lie down because my side and back hurts. I was not sure I was going to last another month. But I knew one more month my baby girl will be alive and safe inside my womb.

It was a chilly evening February 7th 2012 and I decided to go to my mother's for dinner. After eating my son asked me if he could stay there for the night and I usually don't let him stay a night out, but for this night I did. I got home and changed my clothes. I opened my laptop to check the latest status updates from my friends and I had two messages pop up at the same time from two of my friends that one was going to watch Julian if I were to be in the hospital for a while and another from my son's godmother and my support and coach in the labor room. I questioned why both of these people were messaging me wondering how I was feeling. Is this a sign? Am I going to have this baby soon? I shrugged it off and flipped on the television to find something boring to watch so I could go to sleep. The telephone rings and it is my son's father who never calls me at such a late hour. He is rambling on about some birthday party that he wanted my son to attend and in mid sentence I began to feel a warm liquid drip out from between my legs that is way beyond my control of stopping it. I said, "I think my water just broke". My son's father stops and says, "WHAT? Your water broke?" I replied, yes. During this time I'm frantically trying to find something else to wear but everything I was putting on my bottom was getting soaked! I picked up my phone to call my ride to the hospital. She shows up reminding me of everything I needed to get. I had a bag packed but ran out the door forgetting it. She reminded me to go back in and get my bag and we are off to the hospital. At this point I'm scared to have my baby but I was ready to meet her. I feel my heart pounding and I am sweating with anxiety. I didn't feel any contractions though.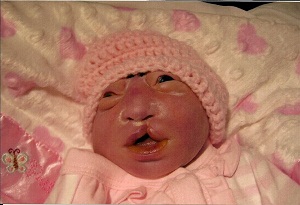 I walk into the hospital with soaked pants carrying in a bag asking the security guard to direct me of where to go. He just looks up from the security desk and points down the hall. Luckily, my doctor called and I said I was at the hospital but the security guard was not much helping me in the right direction. My doctor told me to go to the elevator and go to the second floor. Getting into my hospital gown the triage nurse is hooking me up to the monitor to listen for the baby girl's heartbeat. My OB doctor steps in to tell me (again), "Now I really think this baby has Anencephaly and you do know the prognosis, right?" I replied, "Yes, I know". Then I was wheeled into the birthing room to be hooked up to an IV, baby's heart monitor, and a monitor to watch my contractions. At this time it was the next morning of the 8th. They kept asking me if I wanted something for the pain but I just refused because I wanted to be in best of mind when holding my baby. I just wanted to get rest and be ready to push my baby out. Luckily, my baby turned herself into a birthing position. The time came and I was ready to push my baby girl out into the world. I pushed for about an hour and a half and I kept noticing my doctor kept pacing back and forth in the room. It was like he was in deep thought and didn't want to show it, but it showed.

The time finally came and my baby comes out and she was as beautiful as ever. They placed her on my belly and the first thing I wanted to do was hold her hand. I put my finger in her tiny little hand and I felt help wrap her fingers around it with a slight gentle squeeze. Many say these babies have no feeling and don't know much, but I knew at that moment my baby girl knew who I was before she took her last breath 3 minutes later.

This is something I never thought I would ever go through and I do not know if I would go through it again. But I do know God was with me that day/night. Keeping me calm throughout the whole process when I thought I would be a total mess during the whole delivery. Also, as hard as this is for me to say, my baby Juliana Lucille was to be due on her daddy's birthday but came on mine. That is how I knew that she will forever will my baby girl. I love you Juliana Lucille and one day mommy will be with you in that sky with diamonds.

Julie


Julie can be contacted trough the webmaster
Last updated July 9, 2019