Khaylena
When I was a little girl, my aunt gave me a music box of the poem "Footprints in the Sand," I always loved hearing the music and would play it over and over but never really knew the true meaning of the poem.
"One night a man had a dream. He dreamed he was walking along the beach with the Lord. Across the sky flashed scenes from his life. For each scene, he noticed two sets of footprints in the sand; one belonged to him and the other to the Lord..."
I was walking with the Lord the day I found out I was going to be a mother. It was the last day of my college chemistry summer school class, I was so drained and at that specific moment I only cared about passing with a good grade. The day was Thursday the 29th of July, 2010. I wasn't feeling well and I assumed it was from the lack of sleep, but there was a sense that this was a different feeling. After my class that afternoon, I went to the store to gather a few items for dinner and while walking through the isles I picked up a pregnancy test.

When I got home, my husband and I took the pregnancy test together. The anticipation grew, as we waited patiently for the results. First there was one line and following there was two. I showed my husband the test and there was a big smile on his face, it was adorable. My reactions to the positive results were to take another test, this couldn't be right. I did just that and I took another test, again the same results as before. I had to reassure myself the accuracy of these results, so I went to the store and bought two more different pregnancy tests. As eager as I was to take the tests, I decided to wait till the next morning. During that night I imagined our life with a child. We were blessed by the Lord with a creation of life, something so extraordinary and beautiful. I didn't want to sleep because the excitement grew, I only wanted to take the tests that were waiting for me. At four in the morning, the tests finally convinced me with the same results, I was going to be a mother.

My husband and I saw a midwife instead of a doctor and it was one of the best decisions we made for the pregnancy. The midwives were so compassionate and caring. They made our first experience as parents more enjoyable. At our first visit I was given another pregnancy test, which made a total of five. There definitely was a baby growing. We saw several midwives throughout the pregnancy so we could get familiar with each one, before I went into labor. The first midwife we saw delivered two of my nephews and seeing her made everything seem at ease. The visit went well. We were given our first ultrasound appointment for the following week and our return appointment. After the appointment, my husband and I told our family and friends that we were expecting.

As the week grew closer to the day of our first ultrasound appointment, I started developing pregnancy symptoms. I could smell everything and I didn't have much of an appetite. It hurt when I brushed my teeth and I was extremely tired.

On the day of the ultrasound, I was nauseous and my husband was full of excitement. When the technician turned on the monitor for us to see our baby, it was incredible. I didn't know exactly what I was seeing on the monitor but I knew our baby was special. I turned to see my husband and he was so proud. The technician asked us if we would like to hear the heartbeat and once I heard the first beat, tears began to fall down my face. These tears were full of happiness and nothing mattered to me. Everything seemed so perfect. They confirmed I was seven weeks along and the baby was the size of a blueberry. We walked out of the office as proud parents.

I started getting morning sickness at eight weeks and nothing I ate would stay down. My cravings for fruit would not go away and the smell of laundry soap and any type of perfume drove me crazy. The morning sickness got worse as the weeks went by, I was sick all day and losing weight. I tried all the remedies but none worked. Reading, I learned peanut butter was full of nutrients and the only thing I could eat that would stay down. Once I learned something finally worked for me, my diet consisted of baked potatoes and peanut butter sandwiches.

The bond between the baby grew. Every night before we would go to sleep, my husband and I would take turns reading a child's book to my belly. Each time I took a bath to relax I would sing and hold my belly. We would talk to the baby and even though I didn't feel anything back, I knew the baby was listening. Time went by and I started feeling movement. The movement made me anxious to know the gender. I would take pictures of my belly and send them to other mothers I knew. I wanted to know if my belly was growing like theirs did. Filled with excitement, I was inpatient and looked forward to the day I would know if we were going to be parents to a beautiful boy or girl.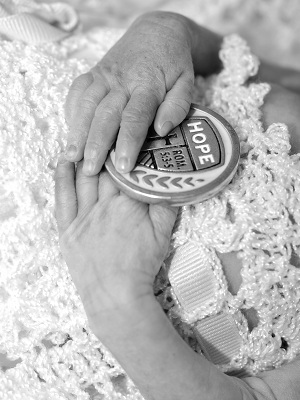 At the end of September, I started having dreams that seemed so real. These dreams I were having, I didn't understand. Often, I would dream about a little boy and I would cry and in the same dream I would dream about a girl with no face but I was happy. The dreams worried me and I felt as if there was something wrong. In October, I waited patiently for my sixteen week visit with the midwife because we would finally know the gender of the baby. When we saw the midwife, I didn't pay much attention to what she was saying. I only wanted it to be the end of the visit and our time to ask questions. Finally, it was our turn and the only question I had was can I make my next ultrasound appointment to find out the sex of the baby. The midwife explained to us the next ultrasound appointment wasn't scheduled until I was around twenty-four weeks. The ultrasound would be scheduled around this time so we can see the fetal anatomy and how the baby was growing. Hearing the news I was looking forward to for the past weeks put me down. Although, I had to wait eight more weeks to know the gender, I was still looking forward to my exam.

The night I went home after the visit with the midwife, I spoke to an old friend who was attending school. My friend informed me she was attending school to become an ultrasound technician and they are always looking for volunteers. She suggested I check into being a volunteer for the students. This was perfect for the reason, we would get to see the baby but most importantly find out the gender. I called the school and made an appointment for the following week.

The week went by fast and October 26th finally came. My husband and I were filled with joy, this was the day we would know. I was now 18 weeks pregnant and for some reason after all the wait I was nervous. The students started the scan. They showed how the heart was perfect and how it was beating, they showed the hands, the long little legs, the feet, and then the question we were waiting for, "Would you like to know the gender," and of course was the response. After the long wait, the student and teacher both announced we were having a girl. A girl, a perfect little girl, we are parents to a beautiful baby girl. The teacher asked if we would like to return in two weeks for another visit. The visit would be for better pictures of her hands and more practice for the students. We agreed to the visit and my husband and I left the school with smiles.

My husband grew closer to his baby girl. He called her his blueberry seed and I was his blueberry. He talked to her every day and made plans for our life. We chose her name and the both of us could not wait for her arrival. November 9th came around and it was time for the appointment at the school. I was twenty weeks pregnant and still having morning sickness, or all day sickness I would call it. Not looking forward to this appointment because of how I was feeling, I wanted to stay home. There was something telling me I needed to, I needed to go, I needed to get up today and look past my feelings and just GO.

We attended the appointment and all of the sickness was gone because at that moment everything was perfect. It was like the first ultrasound appointment. I could see our little girl clearly. Her heart beat was so strong, she was turning and flipping, she was perfect! The teacher doing my exam left with the student and a new teacher came over to us. She started scanning my stomach in a fast pace and began to ask odd questions. I felt the questions she was asking, were out of line. She related the questions with something I didn't understand. She said they can't see the head, they couldn't see the top of the head and I should see my doctor immediately. She stopped the scan, cleaned everything up and walked away. Thinking to myself what just happened, I continued to lie on the bench. I waited for the teacher to come back but she never did. The students knew something was wrong, all of them were looking at us. Still couldn't understand what she just said. We left the school, I was crying and I told myself I would never go back.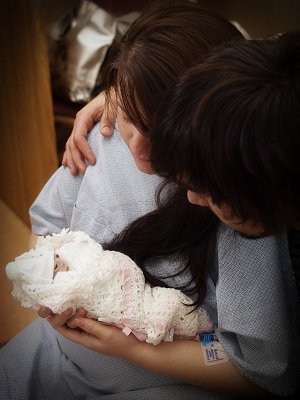 The day after the exam at the school, I demanded to be seen by a midwife. There was something wrong with my baby girl and I needed to know. The midwife calmed me down and ordered a stat ultrasound for the next day. We went to the ultrasound appointment and the technician was quiet the whole time. He printed a photo of her hand waving at us, let us hear her heartbeat and told us our doctor will have our results as soon as possible. Two weeks passed by and I never heard anything from the midwives. I was moving on after the news we got in the weeks before and started making plans for our little girl's arrival. Everything was okay, everything seemed normal, lots of movement, she's doing great, or so we thought. My husband and I attended a workshop for new parents, it was November 22nd. The workshop was at the office where we see our midwives. After the workshop, I asked for the results to the ultrasound that was two weeks ago. My husband said he was sure everything was okay because we never heard from them and I agreed. I noticed the nurse's reactions. Their emotions changed and didn't want to look at me. They rushed us into a room like it was a routine visit. A new midwife came into the room, one we haven't met; she was the last one out of the group.

The midwife was happy so I assumed nothing was wrong. I'll never forget the look on her face when she looked at the results. Her whole domineer changed. She told us they found something and the reason it took so long was because they sent the results to several doctors. Our baby was missing something from her head, something from her brain. I tried to stay calm, I began to cry and again I didn't understand. I couldn't believe it. My husband was strong, he was strong for all three of us. The midwife said they made an appointment for us to see a specialist the next day to confirm the diagnosis.

The next day my mother and sister in law attended the appointment with us. The specialist confirmed the news we got the day before. He told us our baby won't live long after birth and there is nothing for a cure. Our baby had Anencephaly. He asked if we wanted to speak to his counselor and sent her into the room. The counselor gave us our options and they were to continue the pregnancy knowing our daughter was going to die or to terminate the pregnancy. She said I didn't have much time to make our decision because of how far along I was and if I wanted to terminate the pregnancy, I would have an abortion. I was angry at her. The counselor didn't give much meaning to a reason on why someone would continue the pregnancy and only gave me the outcomes of terminating. I asked her to give me people who have experienced this, I wanted both sides. My mother and sister in law were crying with me. Again, I was angry and I just wanted to leave. I never went back to see the specialist.

We found out we were going to loose our little girl two days before Thanksgiving. A time when we are supposed to be happy and thankful, I was upset, confused, and heartbroken. So many emotions, I just couldn't understand how the Lord could allow something like this to happen to us.
"When the last scene of his life flashed before him, he looked back at the footprints in the sand. He noticed that many times along the path of his life there was only one set of footprints. He also noticed that it happened at the very lowest and saddest times in his life. This really bothered him and he questioned the Lord about it. "Lord, you said that once I decided to follow you, you'd walk with me all the way. But I have noticed that during the most troublesome times in my life, there is only one set of footprints. I don't understand why when I needed you most you would leave me..."
My happiness turned into sadness and I didn't know where to turn. I didn't know what option to choose. I didn't want to determine if my child was going to live or play the role of the Lord. I didn't want to say goodbye either. My husband was so strong for us and helped me make the decision, he said, "No matter what I choose his daughter is beautiful and perfect in his eyes." We were going to continue the pregnancy. We told the midwife what we chose and she was so happy for us. She shared personal stories and I felt a close bond with her. She was the only midwife we saw after we were given the news.

I was blessed by a dear friend of mine to introduce to me someone who had a child like ours twenty years ago. She was amazing, we would talk on the phone and through text messages, she would pray for us and we made plans to meet. Our plans never seemed to work and we didn't get to meet.

A month passed by and we started making plans and arrangements for our daughter. I was now seven months pregnant and after all the research of Anencephaly we were doing okay. We were ready for her to come. I was having pains, I was spotting and I was leaking amniotic fluid. The pains seemed normal but I was worried because of the spotting so I went to the hospital. The hospital followed up with exams and confirmed I was okay. I was sent home.

The next morning around 4:00am, I woke up with excruciating pains. I was feeling sick and the pains I were having I thought were normal. I tried going back to sleep and they got worse. I started timing my pain. One was at 4:58, then 5:01, 5:02, 5:06, 5:09, 5:12, 5:15, 5:23, 5:25, and the last that was timed was at 5:29am. After the last pain I realized I was in labor because they weren't going away. I got up to get sick and as I was vomiting my body was pushing. The baby was coming and it was soon. I stood up to put clothes on and my water broke on my bathroom floor. My husband and my little brother rushed me to the hospital. While driving I thought it was time for her to come. We got into our room and the midwife on duty was the midwife who delivered my nephew's. She checked and saw I was fully dilated. I explained the baby's diagnosis to the nurses and it was time for our little girl. I was in labor for 15minutes. On January 16, 2011, I delivered our beautiful daughter Khaylena Raeanne at 6:55am. I was twenty-nine weeks and two days from being thirty. Khaylena waited for us, until we had everything in place for her.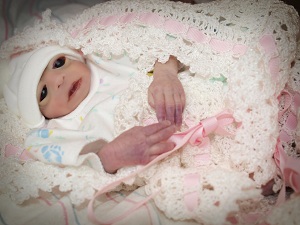 She was so beautiful, so perfect. Everything I was afraid of was gone. Khaylena weighed 1pound and 3.8 ounces, she was exactly 12 inches long. Khaylena had all of my husband's features. She had long hands and fingers, long little legs, big feet, and lots of hair. The only features of mine were here tiny lips. Khaylena didn't have much movement but when the nurse checked her pulse and claimed it was low, she grabbed my finger. She held tight and I didn't want to let go. Khaylena passed away at 8:08am, she lived for an hour and 13 minutes. I was so proud of our little girl, she was very strong. We were able to visit with Khaylena all day. I invited family and a few close friends to experience the special moment with us. My husband and I were at peace. We were proud parents, and proud for the choice we made.

The nurses were wonderful. The midwife I had a bond with came in and both of the midwives were so caring. They treated us very well. The hospital called a photographer for us and created a memory box of Khaylena. They made molds of her hands and feet and till this day we cherish them. Both the midwives and nurses made our experience better. With so much sadness and grief they showed nothing but love for us.

On January 27th, we held a memorial service for our sweet angel. My husband and I both wrote her letters. Over 75 family members and friends attended the service including the woman I was introduced to and had a child with Anencephaly. I felt so honored to have this many people pay a tribute to Khaylena's life. We released 75 white and pink balloons for the time she was alive on earth and it was breathtaking. The service was beautiful but most importantly, we were at peace.
"The Lord replied, "My precious, precious, child, I love you and I would never leave you. During your times of trial and suffering, when you see only one set of footprints, it was then that I carried you.""
Khaylena was the Lords plan for my husband and I, he was always by our side. He blessed us with such a precious gift and provided strength to carry her. Khaylena was absolutely beautiful. I do not regret the decision we chose. I am so proud of our Khaylena and I am so proud of us. Through Khaylena, we have had the pleasure to meet many amazing women who have touched our hearts. We were blessed and will continue to be.

I cry because I miss her, I cry because I love her, but I SMILE because I am proud of her!

Warren and I were the best parents we could be. We will follow Khaylena wherever she may go and never stop loving her. Mommy and Daddy Misses You Terribly Khaylena!


Last updated April 9, 2019