Konnor Scott Martin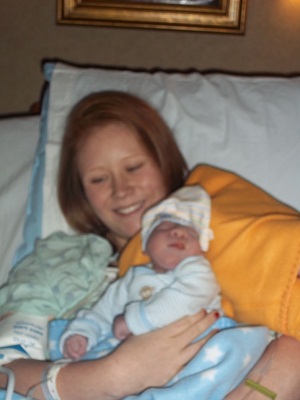 Born Januray 12,2011 10:47am
Died Januray 17,2011 2:15pm

For starters I am Brittany Martin and I am 17 years old. I am from Mississippi.

I found out I was pregnant on May 21, 2010. I was so excited but yet scared to bring a new life into this world. I didn't find out I was pregnant until my 7th week of pregnancy. I was so ready and so exited to be a new mother. So I instantly starting buying everything I could for my baby to come.

On August 24, 2010 I went for my 1st Ultrasound. I was super nervous and excited to see my baby. In the waiting room my mother and I debated on the sex of the baby. I said it was going to be a boy and my mother said it was going to be a girl. I didn't care as long as he or she was healthy. At first I found out I was having a boy, I won the bet, and then the bad news came. I found out my baby boy would be born with anencephaly.

My doctor sent me to Tulane hospital in New Orleans, LA to make sure he had diagnosed me correctly. Tulane doctors informed me that my baby did indeed have anencephaly and would pass away before or shortly after birth.

After finding out what was wrong I went to closest internet connection possible and did some research. I found out that most people have normal pregnancys but alot of people have abortions. I wanted to at least give him a chance at life so I made the decision that since I was in no harm what so ever that I should carry my baby boy as long as God allowed. I wasn't giving up hope just yet.

During the last few months of my pregnancy every kick and every move gave me a little more hope, but I still prepared myself for the worst. So the months went on and it was finally the time for me and my doctor to set a date for my C-Section. We both agreeded on January 12th.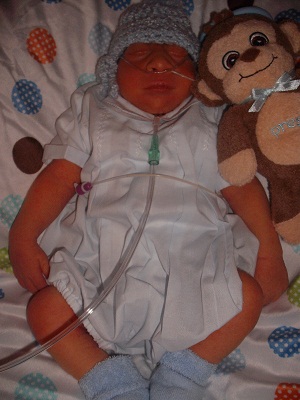 So on January 12, 2011 I went in for my c-section at 7 a.m. I brought my bundle of joy into this world at 10:47 a.m. Konnor weighed 5lbs 2oz and was 17in long. He was doing really well breathing on his own, but Konnor couldn't swallow correctly so he ate through a feeding tube. Me and my baby boy were doing so well that doctors released us from the hospital after the 2nd day.

I was so exited that I was able to bring my son home and give him all the love I could in the time I had with him. While Konnor was home I was able to take him to one church service and have him dedicated back to the Lord since it was indeed the Lord whom had given me such a precious son.

Monday January 17, 2011 my sweet and wonderful son, Konnor Scott Martin, passed away.

I was so lucky to have had 5 full days with him. He taught me and my family to not take the small things in life for granted and to cherish every moment with your loved ones. Konnor did indeed touch many lifes in those 5 short days everything happens for a reason and I believe he taught us everything he was ment to teach us.

I found out that Oxygen helps the baby breathe better. Even if he could breathe on his own we hooked Konnor to a oxygen tank and his colour got better. He didn't have trouble breathing and he didn't loose his breath anymore. He forgot how to breathe at times, so the oxygen tank helped a lot. My doctors also said that children with anencephaly sometimes have muscle spasms that are kind of like silent seizures; the oxygen stops that as well, it keeps their muscles calm and not as tense.

I also found out that a IV helps them stay hydrated. Konnor didn't have a IV but children's hospital in new Orleans LA said the IV would keep fluids in him. Some babies with anencephaly have jaundice. That is also caused because they are more dehydrated then normal babies so the IV would help.

The spot on the head that's open needs to stay moist. To do so, use a sterile gauze, warm water and sit it there. Do not let the spot dry up or start to scan, keep it moist. Do not let the gauze get cold because the baby will loose all body heat.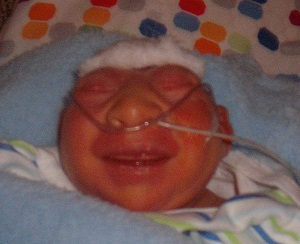 And another thing I wish we had done is to get a heart monitor. Konnor's heart rate dropped a lot and we thought we were about to loose him, and then all a sudden it jumps back up. Someone was always awake 24/7 with Konnor and got no sleep. A heart monitor would have allowed us to sleep and if his heart rate had dropped, the monitor would have alarmed us.

I hope this can help. I really want to help families with these babies to make this hard time a bit easier. Please contact me by e-mail if you have any questions, I really want to help as much as I can.

Konnor will always be remembered. He is my personal guardian angel.

I love you Konnor!

Brittany
Last updated April 10, 2019