Kyle Benjamin Royer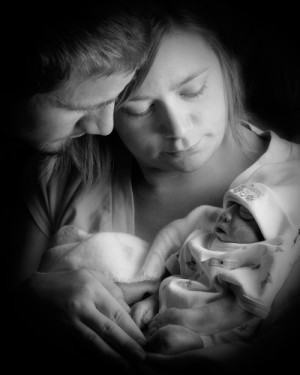 I married my husband, Ben, on July 16 2005. We knew we wanted to start building our family right away. We found out we were pregnant in October, but had a miscarriage only a week later. After our miscarriage my doctor told us we only needed to wait one month before trying to get pregnant again. And sure enough, we found out we were pregnant on December 8, 2005.

We were so excited, but scared at the same time. We wanted to make sure everything was going to be ok before telling everyone we were pregnant this time. After out first sonogram my doctor said that everything looked fine and she scheduled me for another sonogram in April. So I continued on through the beginning of my pregnancy elated that we were going to be parents. I had the regular morning sickness and tiredness, but other than that I felt pretty good.

Around February we bought a crib and a dresser and began painting out baby room. We had no idea that our baby would never get to come home to the room we had made for him.

On April 4th I went back to the doctor's office for my second sonogram at 20 weeks. We were so excited, but I kept having thoughts that something was wrong. While we were getting our sonogram we told the technician that we wanted to know the sex of our baby. It seemed like she took a long time to look over everything. I kept wondering why she wasn't telling us if our baby was a boy or a girl. She then told us that our baby looked fine physically, but that something was wrong with his head.

After hearing this my husband immediately broke down. She said she was going to get my doctor. I kept telling my husband to calm down, that it was probably something like a cleft lip or palate.

When my doctor came in I knew the news was not good. She told us she was sorry, but our son was not going to make it. She then explained the condition he had was called anencephaly. I didn't know what this meant, having never heard of the condition before.

I felt like I was in a bad dream. I kept telling myself that I would wake up any minute and not to worry.

She then gave us our options. We could induce the pregnancy now or carry our baby boy to full term. She gave us time to think about our decision, but we didn't need any time. I had already felt him kick and move. We already had a name picked out for him. He would lay between us at night and kick Ben in the ribs through my growing belly. We already had a relationship with our beautiful son. Termination was not an option. I never wanted to lose one of the few precious moments I had left with my child.

My doctor gave us the name of a specialist she wanted us to go to in St. Louis just to make sure that the diagnosis was correct. We went to St. Louis two days after our initial visit. She verified that the diagnosis was correct. We were truly heartbroken. We had been holding on to hope that our little boy would be ok; that maybe there was something wrong with the sonogram machine or that he was positioned wrong. In the end we knew it was true; we were going to lose our son.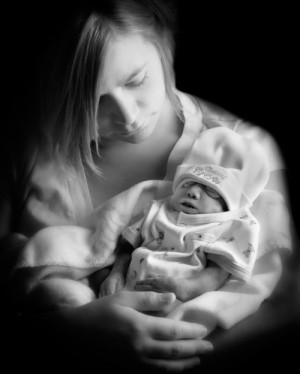 We continued our pregnancy as if nothing was wrong. It was very difficult for me because I worked with two other women who were pregnant. They were due at the beginning of June and Kyle was due on August 19. When I went back for my appointments my doctor told me she did not expect Kyle to make it until August. She didn't even expect him to make it through the birth.

At this time I began to pray to God. I asked him to let my baby be born alive; I just wanted to hold him and know that he was safe in my arms if only for a moment. Throughout the remainder of my pregnancy I focused on the hope that Kyle would be born alive.

As my due date became nearer I developed a common condition with anencephaly called polyhydaminos (an excessive amount of amniotic fluid) which caused me to look further along that I actually was. I actually had customers ask me if I was expecting my child any day. The other two women I worked with hadn't even gone into labor yet! This made it very uncomfortable for me, but not for very long.

On July 4, 2006 I was at home by myself while my husband was working on a landscaping job with my dad. At 8:15 my water broke while I was on the phone with Ben. It was completely unexpected since I wasn't due until the middle of August. My family rushed me to the hospital to meet Ben. Once I was there, they discovered that I wasn't actually in labor yet. My water had broke because I had too much amniotic fulid. They started me on an iv to start my contractions and told me whenever I wanted an epideral to let them know. They knew our situation and wanted to make us as comfortable as possible.

I only had to push once and Kyle was born at 4:42 am and weighed 3 lbs 4 ounces and was 14½ inches long. He was alive. My one small prayer had been answered, my son was alive and in my arms.

He was so little and beautiful and looked just like his Daddy. He only lived for 23 minutes but he lived.

I got to keep him in my room for the entire day and even took a nap with him. Towards the afternoon we knew we had to say goodbye. Leaving the hospital without Kyle was extremely hard. I was leaving without the baby I had come with while three or four other pregnant women were being wheeled in to have their babies.

We planned Kyle's funeral for July 8, 2006. It is a very difficult thing to plan a funeral for your child, but the service was absolutely beautiful. The priest made a comment about how long Kyle had lived. He said that it didn't matter if Kyle lived 23 minutes, days, months, or years because 23 minutes is a lifetime.

We burried Kyle a plot away from his Aunt Stephanie who also passed away when she was young. I like to think that Stephanie is taking care of him in heaven since she never got to be a mom. She's watching over Kyle for us making sure he knows how loved he is.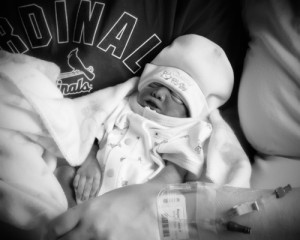 Kyle changed the way I look at life. I never would have thought that any of this would have happened to my baby. I know now that God has other special plans for Kyle in heaven. I'm just happy that we could give him the life he was meant to have. He never knew any pain or suffering, only love.

It's been almost four months since we had Kyle. I will always remember July 5th, not as the day we lost Kyle, but as the day we met our beautiful son. We still talk about him all the time, he's a part of our family. Even though Kyle's gone I'm still a mom and Ben's still a dad. We're still a family and we'll be whole again one day.

To those of you going through this same situation I know that nothing anyone says will make you feel better. Please know that God considers us special people to have us go through something as traumatic as losing a child. "God never gives us more that we can handle"

I love you Kyle.

Love, Mommy


Kyle's pictures were realized by a photographer of "Now I lay me down to sleep"
They gently provide a helping hand and a healing heart to parents experiencing an early infant loss. NILMDTS offers a vital service to our community. For families overcome by grief and pain, the idea of photographing their baby may not immediately occur to them. Offering gentle and beautiful photography and videography services in a compassionate and sensitive manner is the heart of this organization. The soft, gentle heirloom photographs of these beautiful babies are an important part of the healing process. They allow families to honor and cherish their babies, and share the spirits of their lives.
Last updated April 10, 2019