Lucy Sunflower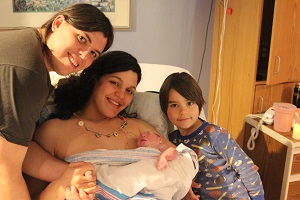 Little Lucy was due in late March. We all wanted her so dearly. Her brother Luke was inquiring us for years to have a sibling. As a family, we finally decided it was time to let our family grow. We planned on trying for another baby in August but she came a little earlier than we expected and she was conceived in mid July.

We did not know we were pregnant as we moved from our cozy home in Charleston to set out on a month long road trip. We packed a storage unit full of our things and hit the road. I finally realized that I was about a week late and decided to grab a pregnancy test at a pharmacy. And low and be hold bright and early at our first hotel we find out the most exciting news that our young family could receive.

A positive test.

This trip was beyond exciting, with so many dreams and hopes of a new baby entering our lives. So much joy and excitement! We were truly on the top of the world and submerged in bliss.

Although my pregnancy was very rough with extreme morning sickness, high blood pressure and lots of different hurtles, we were so happy. Our plans were for a homebirth and for as little interventions possible.

We opted out of an ultrasound at first but around 36 weeks when things seemed to acting extra strange in my body, with rising high bp and my round belly measuring low, my midwife at the time suggested I go in to make sure our baby was developing properly.

At this time we found out the devastating news that our wee daughter had a neural tube defect, called anencephaly.

Our hearts were torn from the inside out. We were devastated and in shock. The specialist that took our ultrasound was admit about us being induced that very day.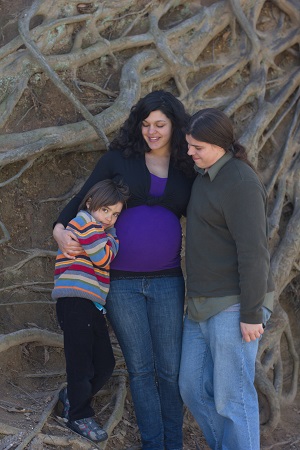 We were smart enough to go home and cry, and talk and cry some more. We decided it was only fair to let our daughter live her life. She was just as precious, just as perfect and just as amazing as always. Of course we would fight for her life.

And so a new chapter began, but instead of being excited for precious baby clothes and searching for the best baby carrier to buy, we were designing a wooden box, thinking about where she was to be buried, telling our Luke that his sister was going to die.

What misery we felt.

I do want to say that on top of the shock and misery we did create some of the most beautiful memories with Lucy still inside of me. I will never forget what my husband said to me when I started grieving for her before she was born. "She is still alive with us, let's cherish her now, we can grieve when she's gone." This saying even to open my eyes to the now of her life.

We did so much in that month before her birth. My family came to our place and I had the most beautiful blessingway; Full of love for our precious Lucy.

We made tie-dyed shirt for both Luke and Lucy to match. Luke painted a gallant sunflower on my big round belly, and life was just so beautiful with her growing and moving within me. I was in awe of her strong swift movements. Her precious hiccups that bounced around in there were cherished.

I have to say with her active personality I was in a bit of denial that the ultrasound scan was telling the truth. I wanted to believe it was wrong.

Towards the end of my pregnancy I developed extreme hypertension and ended up with a new midwife who helped me find the right place to birth our Lucy. A hospital with great nurse midwives was ready to be there for us. This midwife became our doula at the hospital and kept us calm and loved us so. We are forever in gratitude for her ever flowing love.

So on April 1st 2013 around 5:30pm, my induction with cytotec started. Luke was in the room with us. We had decided we wanted him right there to meet his sister, because it was so unknown about how long she would be with us. I was given my next pill around 8:30 or so. I could definitely feel some waves and knew that I would be starting soon. But in my heart and my body I knew I had to put Luke to sleep first. I did want him there but I knew I'd be laboring through the night and he needed rest. I lied down on the sofa in the room and sang sweet songs to him, I rubbed his back and told him that he would meet his sister soon. It was so hard for him to fall sleep in a place he was not familiar in and with anticipation to meet his baby sister. He was finally asleep around 10pm.

Now, I was ready to start. I squatted on the floor and in an instant I felt the ground around me. I was shocked and said "Did I just pee? Or could this be.." The nurse came in and checked the fluid, yes my water bag had broken. I breathed heavy, because now it was real and I knew she would be here soon. The waves of contractions started. I felt like a goddess in my skirt and flowing curly hair. My husband rubbing my back and my doula whispering strong, powerful words into my ears, every word she said was needed, I listen and my body melted into every word. I wish I could write them here so you could read the power in those words.

My mother was there stroking my arms. I leaned against a door through many contractions, I squatted through others. There came a time when I leaned over and threw up into the nearby trash can. And my doula said, "that is good, means baby is coming, we are close"

It was so good to hear those words but also so scary. What was she going to look like? Was she going to be born alive?

I remember being in a mama, labor trance. I was going in and out of consciousness. I remember towards the end I was knelling and someone put pillows underneath my knees and I was draping my arms across the bed. My husband was holding my hands from the other side and breathing deeply with me. I remember I could feel the intensity, and my doula said "put your hands down and catch her, she is coming!"

I remember touching Lucy for the first time, I felt I had to be so careful. Her little squashy bottom on my fingertips. I pushed ever so gently, and her bottom and legs came out, I pushed a little more and her whole body was in my arms.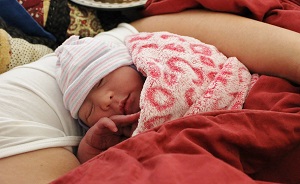 She was born!

I had caught my precious Lucy in my arms!

I was in heart pounding awe of my wee chubby little girl. I bundled her in my arms and then my placenta came. She was connected to the cord for at least 15 minutes until it was white and had stopped pulsating. She started breathing sharply. I was so scared. I kept asking, Is she okay? Everyone reassured me that a lot of babies do this to clear their airways. This brought me some comfort. I just gazed down at my sweet wonder and couldn't stop smiling, couldn't stop looking at her perfect pure face.

If I can remember correctly I kept saying "Oh my goodness, she is just so beautiful, oh my goodness."

The awe she brought over me was so intense and amazing. We eventually got up off the floor and onto the bed.

Luke was awake and using the bathroom as I birthed Lucy, he came minutes after she was born and was able to see her and to touch her. He was in love with his sister; he stroked her face and smiled at her so sweetly. I remember him being so quiet and making sure we all had our voices low.

The rest of our family was in the waiting room and came and met sweet Lucy. It was so beautiful and perfect.

I held her for the rest of the night and she slept in my arms.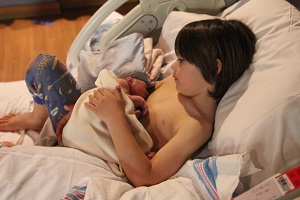 Around 6:30am Luke woke up and came up into the small hospital bed and snuggled with us and we both were drifting in and out of sleep. He kept waking up and stroking her arm or her hair. Then around 7:30, the nurse came in and I had to go the bathroom. Luke asked to hold Lucy and of course I said "YES." I placed her so gently into his precious arms and as I walked to the bathroom I could hear him talking softly to her. I came back out and to see him sitting there with her, oh my heart was melting with love.

My two precious children together and oh so happy.

The doctors came in and checked her heart-rate and she was doing just wonderfully. It was around 9:30 now and I was starving, my husband and Luke went down to the hospital cafe and brought me things.

I remember feeling ravenous and my husband was feeding me because my hands were full of our precious wonder.

We decided to sign ourselves out of the hospital at 10 am the next morning. I wrapped Lucy into my sleepy wrap and put my sweater around both of us. Luke climbed on the wheelchair with us and we rode through the hospital, ready to be home.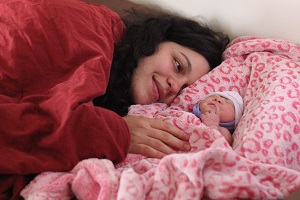 In the car, I can't even describe the moments Lucy and I shared. Her face reached towards me and mine towards her and I stroked her precious face and she smiled at me. A beautiful, radiant and peaceful smile. And she did it over and over. I kept stoking, she kept smiling. Towards the end of the ride home (about 40 minutes away) I realized that I was all wet. I had her completely skin to skin and didn't even think about her peeing on me. It was so precious. Sweet fresh baby pee.

It hit me, YES, this is my baby. She is alive and here!!!!! Yes she is.

I can't even describe the rest of the day, full of family and life and love. Trying to figure out the best head dressing, putting her in wee clothes and diapering her, full of trying to breastfeed but to my dismay she was not strong enough and we had to resort to formula. Precious moment between us all. A bound so pure and precious.

At night I decided to sleep in our recliner with her bundled in my arms. Throughout the night she woke with heavy breathing. I was scared. I talked with her, I consoled her, I fed her. It helped, she went back to sleep.

By the morning she didn't look so good. Her face had turned blue a couple of times. My husband's brother and girlfriend were over, we wanted to make ink stamps of her feet. Needless to say it didn't happen right then because little Lucy was dying.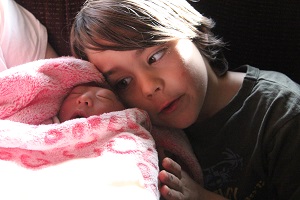 I was in the middle of dressing her into a pretty dress. It was half way on and then I realized, I took it off her face and held her in my arms. I looked down at her peaceful face, she was breathing in and out, slowly.

I saw her going.

She died so peacefully but for me it was like an avalanche had fallen on me.

After she passed the hospice came to our house and they helped get prints and I bathed her, I clothed her in her precious flowery dress and little leggings. Her body was beautiful. Her wee little hands, and beautiful closed eyes, her velvet soft hair and skin. Her plump little arms and chunky cheeks.

Our perfect Lucy. Our baby Lucy. Lucy Sunflower lived!

April 2nd 2013 - April 3rd 2013,
Lucy lived an amazing 40.5 weeks inside her mama, 33 glorious hours in our arms and she lives forever in our hearts

Written by

My blog for Lucy

Painting done of Lucy and I
Last updated April 30, 2019