Noah Tobias Cutlip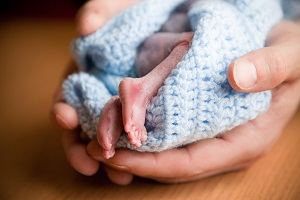 In October of 2009 we found out that we were expecting baby #4. At the time I wasn't excited about being pregnant again. I wanted a little more time with just the three that we had. But, after a couple weeks of fighting against God regarding this new little life that He created in me, I got excited about God's plan for growing our family.

On December 13, 2009 I went in for my first OB visit. My doctor couldn't find the baby's heartbeat and so she had me get an ultrasound. She told me she wasn't worried, that sometimes when they're little you can't find it right away. So I walked down the hall to the ultrasound room and waited for the tech.

The first thing I noticed when the ultrasound began was the little beating heart – I was so relieved. But the tech seemed concerned. She stepped out the office and came back in a couple minutes later. She told me that my doctor would have to talk to me. I couldn't fathom what could be wrong.

When the doctor came in, she told me that our baby had anencephaly. My mind was reeling as she described what it was and what it meant for our baby.

When I was 20 weeks pregnant we found out that our baby was a little boy. We decided to name him Noah Tobias which means, Take Comfort, God Is Good. We wanted and needed his name to be a constant reminder of what we knew to be true, even if it didn't feel like God was being very good.

We spent the next several months trying to live for our kids, our little baby Noah, and yet planning to say goodbye. It was the hardest time of my life. I had so many mixed emotions. I wanted to hide the pregnancy so nobody would ask me when I was due. I also wanted to enjoy, as best I could, the time knowing that it was the only time that I would have with our Noah. I wanted so much to connect with Noah and yet God gave me little to hold on to. I longed to feel him move but he was small and the placenta was in the front so I only felt him move a couple of times. We did our best to plan and prepare for the day when we would meet Noah. We prayed that he would be born alive, but it scared me at the same time – I worried about what life would look like if he lived for days or weeks like some I had read about did.

When I was 31 weeks pregnant we found out that Noah's heart had stopped. Two days later on April 15, 2010 Noah Tobias was born. He weighed 9 oz and was only 11 inches long. Nothing I read and none of the pictures I had seen prepared me for seeing him. He wasn't like other babies with anencephaly that I had seen pictures of (normal from the eyebrows down). His entire little body was marked by deformity. He not only had anencephaly, but he also had a cleft lip and deformities to his neck/shoulders, spine, thumbs and feet.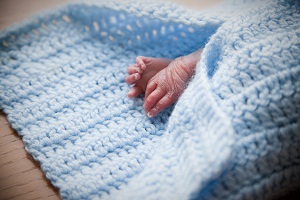 We spent several hours taking pictures with him (a local photographer, not yet associated with Now I Lay Me Down To Sleep, volunteered her services), holding him, and trying to love and accept him for who and how God had made him.

Even though we had originally planned on having our older three kids come and meet him, after he was born we decided that it wasn't a good idea. I regret that they never saw him. I wonder if somehow we could have swaddled him in such a way as to hide most of his blemishes so that they would have some memories of him. Thankfully they still talk about him to everybody they meet and include him in all family portraits. It's a sweet blessing how they keep his memory alive.

It's been a rough road, but God has sustained us. My husband and I embrace Romans 8:28, "And we know that all things work together for good to those who love God, to those who are the called according to His purpose." In March of 2011 He blessed us with a healthy baby boy. Our newest addition is a salve to our souls, and yet he doesn't replace Noah. I will always long to have Noah with us; we will always have one more child than what we see playing at our feet. We have tied heart-strings to heaven. I look forward to the day when I can hold Noah in my arms again.

Feel free to visit our blog for more of Noah's story. I pray that others may find hope, strength and comfort in our story.


Last updated Mai 1, 2019