Oliver Joseph Jack Doherty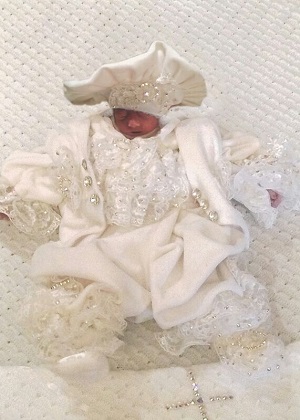 Hi, my name is Katrena. I would like to share my story of having a lovely baby boy born with anencephaly. The reason I want to share my story is to help other families so they are not alone. Because when I was pregnant, other families' stories helped me so much.

From a young age, I always wanted to have a big family. I was one of 13 kids and my husband was one of 7 kids. My husband and I are travellers. We already had 3 boys and 2 girls.

I was 6 weeks along when I found out I was pregnant with baby Oliver. I was very happy and so was my husband.

When I was 12 weeks pregnant, I went to a catholic shrine with my sister at Aylesford priory at the Friaes in Kent. We attended a lovely mass. During this mass, there was a friar who helped. He stood out amongst everyone; you clearly could see he was special. After mass, the friar, Jack from Poland, approached my sister and asked who I was. Then he said he would like to speak to me. My sister had told me this, so I went to speak with him. I was puzzled to know why he wanted to speak with me. Jack told me I was very special. I then said "I am not special". He then said "you must be; God has chosen you to have a prince for heaven". I asked what do you mean? I hadn't told him I was pregnant and I hadn't seen a midwife yet nor had a scan. He then said to me "you will be back in a couple of days to see me". I got worried and said do you think my baby will be alright?

I was very shocked and worried I couldn't sleep wondering what Jack had meant with 'God has chosen me to have a prince for heaven'.

So I went straight to the hospital requesting a scan. But the hospital said no as I was not booked in yet. Whilst awaiting my 12 week scan, my sister who was also pregnant, was attending her 5 months scan in D.V.H in Kent London. I went with her. She asked the sonographer: "could you scan my sister?" the sonographer didn't want to as this was not my appointment. But we pleaded and asked again. The sonographer knew our family really well, so she agreed to scan me. I explained what Jack had said to me. I was very concerned. Whilst I was being scanned I could see the sonographer's face change to a pale white. I then knew something was wrong. The sonographer said she had to get a doctor. She left the room for about 5 minutes which seemed like a whole lifetime. The doctor came in and viewed the images and told me: my baby had anencephaly.

I didn't even know what anencephaly was.

I then learned how sever it was. I was in shock. The doctor went on to tell me that termination was highly recommended. The information I got that day was very little about anencephaly. I left the hospital confused and hurt. Most information I got was about termination.

I went straight back to Aylesford. The words that Jack had said a couple of days prior repeated in my head. I asked the reception if I could speak to Jack. The receptionist said she didn't know if Jack would see anyone as he had had a very bad night. She asked without mentioning my name. He refused to come. But as soon as my name was mentioned he agreed to see me.

I asked him "what was it that you did see in me and how did you knew there was something wrong with my unborn baby?" He explained he gets visions from God. I said "why me"? He repeated by saying my family needed an angel. I replied "how many more angels God needs?" because a lot of family members had passed away not long before this.

Jack and I walked around the shrine for hours talking about the catholic faith. One of the subjects was termination. Jack said no one has the right to take a life other than God. I hadn't thought of termination at any time and would never be able to do something like that.

As I was leaving, Jack said to me look after me and hugged me. You will never see me again. I began to cry. I felt that he was someone I could confine in in this difficult time and now he was leaving for good. Back to the monastery in Poland. Just before I left, Jack gave me a relic of St. John of the cross and assured me I would be fine. I told him my baby was going to be named after him.

That was the last I seen of Jack. Later I returned to the shrine thinking I would see him, but I never did.

When I got home, I explained to my other children that our baby was going to be an angel. I never went in to many details, as I thought it would be too soon and as I was hoping for a miracle.

4 months into the pregnancy, I went to many hospitals for different opinions thinking there was hope for survival. But all I got to hear was termination and why I would carry on with the pregnancy with the risk of polyhdramnios. That is a condition where there is too much amniotic fluid because of the baby not being able to swallow. They told me that there was no chance for survival for the baby and if there was, it would only be minutes or hours after birth. At that point, I felt very alone.

On one occasion, a doctor told me that there would be no need for pediatrics because there is no chance of survival; that I should be prepared for a traumatic birth.

My appointments were more and more frequent which I was happy about; because I could see my baby Oliver moving and alive. I never wanted my scans or pregnancy to end.

5 months into the pregnancy, we moved to Belfast. As I knew that delivery was unpredictabe and my husband's family burial ground was there in Belfast.

I booked into the Royal Jubilee hospital. The staff was amazing there, especially my consultant Dr C. She informed me I could come in for a scan whenever I wanted. And I did. She couldn't get rid of me; I went for a scan almost every second day. I wanted to see my baby Oliver every minute of the day. I wanted to see him alive while I could.

My pregnancy with Oliver was no different from any other, apart from knowing that my baby wasn't well. There were times I was very happy and the support from our families was great. Especially from my sister in law Patricha.

In the evenings I would look in the internet about anencephaly and other stories. I was really relieved on the answers medical professionals could provide. The anencephaly.info website was extremely helpful. It made us feel not alone and thanks to this website I learned more about anencephaly and what to expect and got in touch with people.

My husband agreed to whatever I decided whilst having our baby Oliver.

Slow labour started at 7 months because of an UTI. I was admitted to hospital and was diagnosed with renal colic. I was given antibiotics. The doctor wanted to give me a drip to make my labour faster but I refused as I did not want to rush my baby's death.

As the antibiotics worked and my renal colic got better, the labour slowed right down. I then left the hospital against doctors' orders because I felt at the time they just wanted me to deliver.

Over the next few days, I took things very easy. I realized that I had to prepare myself and my family for what was to come. My sister in law Patricha and me went on to find a tiny casket and a place of rest, which was very difficult at this time. I never told my husband what I was going to do. Whilst at the cemetery, I found a place of rest for our baby. It was next to our baby's grandfather. I asked the care taker of the cemetery if we could have the place. He said no, as another wanted that place. He then showed me a place that was available. It wasn't a very nice spot, next to a metal railing, which made me feel even worse.

I hoped and prayed that night. It was one of the hardest of my life. I should have been shopping for his Christmas presents, not his grave. At about 10 a.m. next morning, the phone rang. It was the care taker. He told me that I could have the place next to his grandfather's grave! It was a little comfort to know that Oliver wouldn't be alone.

That day I went and got my hospital bag ready as I knew from the pain I was getting that I would soon need it. I didn't want to go in hospital as every time I went in, they wanted to start me off. So I suffered as much as I could at home. I wanted to make sure I had everything in for Christmas for my other children.

On the 14th of November 2012, I had really bad pains. I didn't know if it was my kidney stones that had started the labour off again. I couldn't bare the pain any more, so I went into hospital again. They scanned my kidneys and then told me it was renal colic and that it had brought on the labour. They wouldn't stop the labour due to the baby's illness.

After 3 days of labour on and off, they wanted to give me a C-section. I refused as I knew it would be all over. I just didn't want the pregnancy to end at that point.

All my family came from England to see me. Thinking the baby would be born, my family pleaded with me to have a C-section, to get it over and done with. I refused as I didn't want to let my son go.

My family stayed with me for 3 days and 3 nights as the labour went on and off. Then my family all went home, when I insisted that the labour slowed down I thought I would go home.

The consultants and doctor came in the room the next morning and told me that my life was in danger. They would take it into their own hands. I just wanted nature to take its course. At that point I had been 7 days in hospital and I was only 3-4 cm dilated. They gave me a string to dilate more, but when the doctors left me, I went in to the bathroom and removed it. 6 hours later, the doctor came back to see if anything had happened. After examination, she asked what happened to the string, and I told her "it must have fallen down the toilet". She smiled and knew what happened.

Then they said we just can't go along any more. You have to let go. At that point, my sister in law Tissey pleaded with me to have a C-section. I told her if nothing happened over the next 24 hours I would have the C-section.

2 days later, the pains became very strong. I was just about ready for a C-section. When the doctor came back and examined me, I was 5-6cm dilated. At that point, I got my sister in law to ring my family as I knew Oliver would be born that night. I then got my sister in law to write down every kick that Oliver gave me.

Oliver Joseph's last kick was at 22.15h. He was then born at 22.21h, on the 25th of November 2012. He died during delivery.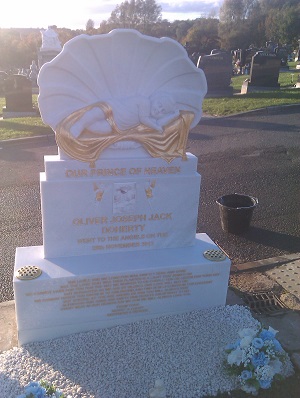 My sister in law was the first to see him; she put a hat on him then gave him to me.
He was perfect in every way.

Then I dressed him in his outfit. It was a prince's outfit as Jack said from the start you will have a prince for heaven. A priest came in and blessed Oliver Joseph.

The register over the whole hospital came to see me. She said I had to come and see you as what I have heard about you. She said you are so stubborn; you are one of the longest ladies in labor. 11 days!! She laughed and said your stubborn ways remind me of my father.

But still, I got it my way in the end. I had Oliver Joseph natural and don't regret 1 minute or day. I would do it all again.

I truly believe that babies born with anencephaly are special babies and they are angels. They are gifts from God.

I would just like to say thank you to all the staff at the Royal Victoria hospital for all the help they gave me, to my sister in law Tissy and the anencephaly.info website, and also thank you to Sophie for helping me during the pregnancy.

Oliver Joseph Jack Doherty was laid to rest 3days later in Carmoney cemetery in Belfast

D.O.B: 25/11/2012
Time of birth: 22.21h
Length: 35cm
Head circumference: 19cm
Weight: 1168g
Born in: Royal Jubilee Belfast
Died: 22.21h



I also have a slide show on YouTube of Oliver Joseph's funeral

Katrena
Last updated Mai 1, 2019