Stephanie Ann
June 2011

This is for Stephanie

I'm so sorry I didn't get to see you or hold you when you were born. In 1970 things were much different. Dr's just wanted you to forget about the life you just lost.

I didn't even know that what you had had a name until yesterday 6-26-2011.
All I was told was that your head didn't develope like it should.
This experience has been just like I have lost you all over again.

I never got to grieve for you as I developed a massive blood clot, had surgery & was in the hospital for several weeks.

I never knew until the day you were born that anything was wrong. That day I had been having problems with you moving up into my stomach when I ate making it difficult to do so. I had a Dr's appointment and they wanted to do x-Rays. When the results came back is the day I had you and that is when I found out that you weren't going to live after you were born. I remember wishing I could just keep you inside me so you could live. But that wasn't possible.

This is 40 years late but at least I know what happened.

...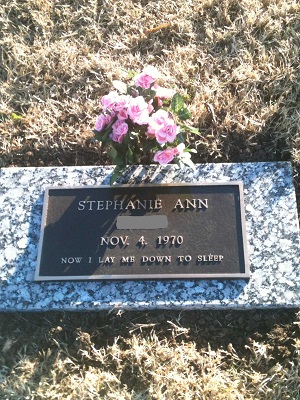 After finding out what happened to Stephanie I had to be sure she had a marker for her grave. I had wanted to do that ever since she was born but something always got in the way. We found a very nice man that helped us get everything we wanted on it. I got the Marker Nov 8th & placed it on Nov 10th. Friends of mine that were there when she was born went with me & we took pictures & it was a beautiful day.

It is still hard for me to believe they treated a human being the was they did back then. I'm so glad that people now are able to hold there baby & have a memorial service for them. I feel cheated out of that but I am so glad that I was able to have her marker put on her grave.

Rest in peace my sweet angel, momma loves you.

Barbara



Barbara can be reached trough the webmaster
Last updated July 9, 2019