Zakary Evan Rhoden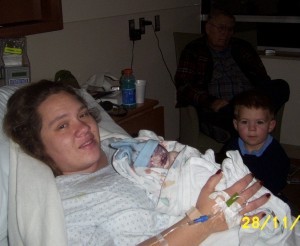 November 28th 2005

On April 9th, 2005, my husband and I found out that we were pregnant. We were both happy and scared. At the time, we weren't married, we had just gotten custody of our now, 2 year old son, which we were just only getting to know, and we weren't sure what our parents and grandparents would think. But, after a few days we forgot about being scared and were very excited!

I went to the doctors office two weeks later to get a positive pregnancy test there, and to see when my estimated due date would be. I found out that I was positively pregnant and my estimated due date was December 12th, 2005. My doctor referred me to the gynaecologist in town, which was ok with me, because he had delivered most of my friends children.

My first few visits to Dr. Bodensteiners office were very normal and I guess routine, since this was my first child. On my second visit I was so excited because that was the first time I ever got to see my child! That beautiful little thing inside me, and he looked like a peanut! But in the ultra sound, I could see his little heart beating and he was floating around in mid air. Even then he was so cute!

The next visit, was the first time I got to listen to his heart beat on the Doppler! I started crying right there. It was the most beautiful sound in the world. And when the doctor told me that my baby had a very strong heart beat I was SO proud.

The first time I felt my child kick was on July 2nd. I was at my moms house and everyone was lighting off fireworks. Obviously, my child didn't like loud noises, because for the next month or so, he only kicked when we were at the races, or I was at work, or when my mom talked.

On July 23rd, my husband and I got married. We were already engaged before getting pregnant, but it did speed the whole process up.

Everything was quite normal for the next two months. My child kicked all of the time I still had horrible morning sickness and I was slowly getting bigger and more excited!!

Then on September 7th, I had a big scare. I was at work and I couldn't stop thinking about how it seemed that my baby hasn't been moving around as much as usual in the past three days. So, to ease my mind I called the hospital and asked a nurse what she thought. I was hoping shed say, Its all your imagination. But, the nurse told me to get to the hospital right away. I couldn't even finish my shift. I was scared and on top of it all, I couldn't get a hold of my husband. I cried the whole way to the hospital, and prayed over and over, God, please just let my baby be ok, don't let anything be wrong. When I got inside, they found the heart beat and got him moving around, and everything was fine. So, I went home and waited for my appointment the following week.

That day came. I was SO excited! It was September 14th, and it was the day I would get to find out what I was having, a boy or a girl. My husband didn't want to know but I did. I went to the doctors office and ended up going by myself because my husband had to go into work on his day off. The ultra sound got started and the doctor said so far the abdomen looks normal for being this far along. But he was having trouble getting a good look at the head. So, he set up an appointment for me to go over to the hospital the next morning, because they had a better ultra sound machine. So, the next morning, Kyle, Austin and I get up and meet my doctor at the hospital. We go into the room and Im thinking Now Ill get to find out what I'm having. But no one was saying anything. The technician was quiet, and my doctor and the radiologist were talking amongst themselves. Then I thought, Why are they so worried about my baby's head, its just sitting low in my pelvis. They act like my baby doesn't have a head or something. Then they walked out, and I asked the technician if my baby was a boy or a girl and he just looked away and said they didn't get a good look.

I came out of the room and sat down with my family and my doctor said there was something wrong. And my heart sank. He told us that our baby had a neural tube defect called anencephaly and its not compatible with life. He said that the top of my baby's head didn't form and that the brain would be damaged due to its contact with the amniotic fluid. He told me he wouldd refer me to a specialist in Lincoln and that I have an appointment as soon as I could get up there. So, I left the hospital, crushed, and went to my moms and cried my eyes out to my mom and grandma. My heart was broken. They just told me my first child was going to die.

My husband and I drove up to Lincoln that day and met Dr. Kenney and his staff. They were wonderful and very caring. We had another ultra sound when we got there and they told us we were having a baby boy. Dr Kenney gave us our options, we could terminate the pregnancy, or we could keep doing what we were doing.

We went home that night, and we had a lot of things to think about. So many things were going through my head. Like, why did this happen to me? What did I do to deserve this? Is god punishing me for things I've done in the past? I couldn't understand. I am a wonderful mom to my son Austin and I love kids.

I took a couple of days off work to think about everything that's happened. And in those few days I made a lot of decisions. We decided to go through with the pregnancy. To have our son the way we planned to from day one. I also decided that I didn't want to tell anyone about our what was wrong with our baby , except our family, while I was pregnant. I didn't want anyone to feel sorry for me, or look at me strange, or just remind me everyday that my child wasn't going live long after he was born. I did this because I felt this was the only time I would have to bond with my child while he was alive. So, I pretended that nothing was wrong. I was happy, I waited my entire life for this, and I was going to enjoy it until the end. It was hard at times, but for the most part it was wonderful.

After that day, I didn't take one thing about my pregnancy for granted. I took my time and enjoyed every little kick and movement. Someone even said to me at one point, Wont you be glad when the morning sickness is gone? I said, Id throw up every day for the rest of my life if I could keep my son. Every doctors appointment wed get ultra sound pictures so we could keep them. Every little thing that had to do with my pregnancy wed keep. We also took pictures of me being pregnant.

From the day we found out our son had Anencephaly, I spent a lot of time researching it. I found acts and stories on the internet. I even found pictures and I was scared, but I accepted it. I didn't want my baby to die, but at the same time, I wanted to make the most of the time we did have together. I went shopping for my son every chance I got. I bought him a blanket, a stuffed animal, a baby book, cameras, ink and paper to do footprints, and a couple of outfits. I bought two of some things. One for him to be buried with and one for me to keep. It made me sad because some of my friends were pregnant at the same time, and while they were planning for their baby's lives and buying them things they needed for their baby's to live, I was planning for my baby's death and buying him things he would need for his funeral.

I had doctors appointments every other week for the rest of my pregnancy. I was so happy on those days, but scared too. I was so happy to see my baby on the ultra sound monitor, and to hear my baby's heart beat. It was the most beautiful sound I had ever heard.

On November 27th, I drove to Lincoln, with my mom to check into the hospital to be induced. The weather was SO horrible, I kept saying that I wanted to just turn around and go home, I couldn't see five feet in front of me because of the rain. When we got close to the hospital, I just started crying. I was going to the hospital just to have my baby die. I was supposed to be happy, because I was giving birth. But I couldn't be.

I was induced the next morning at 5:00 am. My water was broken a few hours later and all I could do was cry because I knew then, there was no turning back, my son was coming. Then I started feeling the labor pains and it wasn't as bad as everyone had said, but I got the epidural anyway, because it wasn't comfortable.

At 10:30 that night I started pushing. I pushed for three and a half hours. It felt like it went so fast, though. At 2:05 am I gave birth to a 5 pound 5 ounce, 18 inch long beautiful baby boy. Everyone around me was crying, but all I could do was smile. I was so proud, I had just given birth to my first child. We named him Zakary Evan. I wanted a name with a meaning. Zakary means, God remembered and Evan means Little Warrior, it also means John in English and so does my husbands middle name and my 2 year olds middle name is John.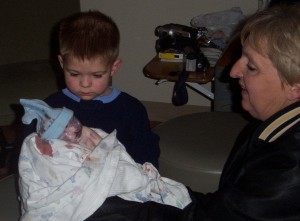 My son stayed in the room with me all night long, and when I woke up I picked him up and held him and talked to him and cried. That whole day my family and I spent making memories. We made foot and hand prints, took pictures, bathed him, and dressed him up in the few outfits we bought.

We left the hospital at 10:00 pm that night and the hospital and the funeral home let us drive him back to Beatrice and dropped him of at the funeral home. I didn't want to say goodbye.

Zakary's funeral was December 2nd. It was so hard for everyone. It was very cold outside.

I miss Zakary very much. I go see him about once a week. Sometimes I go by myself, and sometimes I take my son, or my husband. I love to sit and talk to him. His headstone should be going up any day now and I cant wait.

I am very proud of my son and am very happy with the decision I made. I'm sad that it happened, but I wouldn't have it any other way.



Update:

On June 26, 2007, Cassie and her husband had a healthy baby, Gavyn Shayne
Last updated July 10, 2019