Malachi Samuel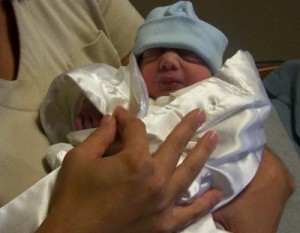 October 10, 2005 – October 12, 2005

There was no reason to expect there were any problems with my fifth pregnancy until that fateful day, June 10, 2005. I had two beautiful boys and had also dealt with tubal pregnancies, one prior to the birth of my first son and one after the birth of my second son. So after ruling out another tubal pregnancy there was no need to worry about anything except whether it was a boy or a girl.

Everything was going fine, even when they sent me over to the specialist because they were having a hard time seeing my son clearly. It was then that our whole world changed. With absolutely no compassion we were told the news, the specialist told my husband and I that there was a problem. Our son had a birth defect that was incompatible with life and before we could even digest what we were being told we were given the number to set up the termination of my pregnancy.

Terminate!!!

Anencephaly is what we were told; we then decided to get a second opinion. The second specialist was more compassionate and even educated us further on the birth defect. Termination was not an option he was alive, he was active, and his heart was strong. We would not play God and we had faith that everything would be fine.

Our son was extremely active throughout the entire pregnancy, even acrobatic. I never had the excess amniotic fluid because our son could swallow and this gave us hope just as his activity did. Most anencephalic babies are not able to swallow and the activity greatly decreases.

We had already decided to give our son a name that meant something. Malachi Samuel, Malachi meaning my angel and my messenger and Samuel meaning God has heard.

I was scheduled for a c-section on October 10, 2005.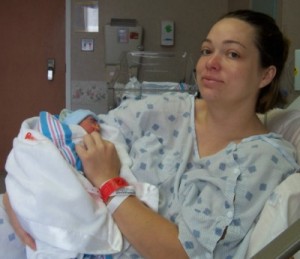 On October 10, 2005 Malachi Samuel was born at 12:05 p.m. weighing in at 4 lbs. 15.7 ozs. and 16 in. long. He was alive, his cry was the sweetest sound my husband and I could ever hope to hear. He had red hair, blue eyes, and big feet and was beautiful!

We took advantage of every moment with video and pictures. The doctors told us that our son could hear, see, swallow and feel. Malachi had almost everything except the part of the brain that regulates body temperature. Our son was with us at all times and was loved, kissed, and held by many.

Exactly 57 hours after his long awaited birth our son left us, all the while in his mother's arms. Our angel would now watch over us in heaven and he was complete and he blessed us greatly. Our time with him was precious and there is no way we could have made it without that time.
Malachi was born at Southern Regional Women's Life Center and we would like to acknowledge them. Everything that we asked for was done. Malachi's doctors held him, prayed for him, and kissed him every time they came to check on him.

We also would like to acknowledge our family and friends for all their support, prayers, and love. We also acknowledge all the people who prayed and extended their faith for our son, Malachi. We couldn't have done it without all of you; you are precious in our lives. I extend a special thank you to my best friend Jamie; her encouragement, support, and love through the hardest times helped us keep our strength. She was my ray of sunshine every step of the way.


Malachi's grandfather wrote a beautiful story about his grandson.

How Tiffiny's best friend got to know Malachi
Last updated April 30, 2019