Creating memories of your precious baby
As sad as it is to know that your baby will die shortly after birth, benefit from the remaining time to prepare for the childbirth so that everything happens as you wish it to. Creating memories of the short time you have with your baby will help you along in your journey throughout grief and the healing process. Your most important treasure will always be the memory of your child, but tangible keepsakes may help you. They will be a reminder of your baby and help you as you will process the loss through many changes in the years to come.

You'll find on this page some very different ideas, I hope you will find some good ones for you and your family.

And don't forget, you'll always be able to throw them away if you don't like them anymore, but you'll have only one opportunity to gather them...
While you are pregnant:
keep a journal
save the positive pregnancy test
ask for ultrasound pictures
videotape ultrasound
record the baby's heart beat
Some places like Build A Bear allow to add a personalized recording (your baby's heartbeat) into a stuffed animal that will play every time it's hugged.
Amelia's heartbeat:
take pictures of your belly
draw the silhouette of your belly or even make an imprint
knit, sew or buy a hat for your baby
knit, sew or buy two blankets for your baby
one you'll use while your baby will be in your arms and keep after, the second to wrap the baby in for the funeral
buy or make several outfits, for his life, for the funeral
make a scrapbook great ideas for scrapbooking
take a family portrait, create a sense of connectedness to your unborn baby by taking photographs of family members with their hands placed on mother's pregnant tummy.
After the baby's birth:
take pictures! For more advice about how to take pictures, go here
ask a professional photographer to take pictures

Todd Hochberg from Touching Souls, Healing with Bereavement Photography, is a professional photographer who does a wonderful job helping parents creating memories of their baby. He also helps caregivers in doing this for families experiencing the death of a baby.
Now I Lay Me Down To Sleep gently provides a helping hand and a healing heart to parents experiencing an early infant loss. NILMDTS offers a vital service to our community. For families overcome by grief and pain, the idea of photographing their baby may not immediately occur to them. Offering gentle and beautiful photography and videography services in a compassionate and sensitive manner is the heart of this organization. The soft, gentle heirloom photographs of these beautiful babies are an important part of the healing process. They allow families to honor and cherish their babies, and share the spirits of their lives.

videotape
record his voice by setting a tape recorder near to your baby
cut a lock of his hair (most of anencephalic babies have some hair on the back of their head, take a small baggy to the hospital)
cut his fingernails (take a small baggy to the hospital)
make hand- and footprints in ink
make moulds of the baby's hand and feet (buy more than one kits and try at home before)
do drawings around his hands and feet
place your baby on some paper and draw around his/her profile (to remember how big he/she was)
draw a silhouette of your baby's face (put a sheet of paper near the baby's head, illuminate his face from the other side, draw along the shadow)
put lipstick on your baby's lips to do lip prints:
Using a matte lipstick, apply it lightly to your baby's lips. Then cut a small piece of the footprint paper (or any white paper). Lightly place the paper over the baby's lips, pressing lightly and lift off. That will give you a set of lip prints. They can be matted and framed. After you get the lip prints, keep them separate from the other things so that they don't get smeared or smudged. A small plastic bag like a snack bag is good to put it in until you can get it framed.
baby's ear print can also be made
use a special lotion when bathing your baby, the scent will remind you later of your baby
change his/her diaper
ask for the blanket your baby has been wrapped in (keep it in a sealed plastic bag to retain the smell)
ask for the baby's bracelet
ask for the umbilical peg
ask for the tape mesure your baby has been mesured with
keep the outfit your baby wore
give your baby a stuffed animal
keep a daily paper or magazine of your baby's birthday
if you have other children, let each child take their own pictures of his brother or sister. Later you can help them creating their own scrapbook in memory of their sibling.
For the funeral:
keep your baby's stuffed animal with you (for your older kids) but put him an identical one in his casket
buy a mizpah coin, a pendant which breaks into two pieces. Put one piece in the casket, keep the other one with you
if your baby has siblings, you may want to buy an identic pendant for all of your children
take a lock of mom and dad's hair and tie it with a ribbon in your baby's hand. That way he will always have a part of his mom and dad with him.
write a letter to your baby to put into the casket
buy a special candle to light during funeral. Later you can light it again on birthdays, Christmas, etc.
make the casket yourself or decorate the casket with drawings
send birth / death announcements
take pictures of the different flowers sent to you
Later: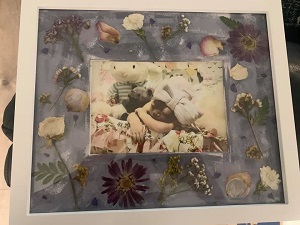 Ariel created this memorial frame by pressing the flowers that were given to her after her daughter Elaina's birth and at her viewing.
dry or press the flowers you got for the birth / funeral
make arrangements with the dried flowers. See a good example on Karinne's blog
put the pressed flowers around a picture of your baby and frame it
make a special picture frame: starting out with a photo frame that has a wide border, family members/friends can decorate the frame to depict special memories about the baby.
put photos of the family members including the baby together on a board, this allows the sibling to gain a sense of connectedness to the baby after s/he died.
make a mobile together out of cut-out hand tracings, photos and cutouts of leaves or flowers.
have a professional artist draw your baby (from a picture or your description)
make a patchwork quilt in your baby's memory
plant a special tree or garden for your baby
plant flowers that were out at the time of your baby's birth/death
write down your baby's story
make a srapbook (www.rememberingyourbaby.com gives you good information about scrapbooking)
set a diamond in your wedding ring in memory of your baby (set one diamond for each of your children)
cheaper alternative: engrave your baby's name or initials in the back of your wedding ring
choose a ring or bracelet with the birthstone of your baby in it have his name engraved in the back
make pins in memory of your baby to wear at special occasions
make a quilt in your baby's memory. Several family members or friends can participate in making a quilt in memory of your baby, even if some relatives live out of town.
write and frame a poem to or about your little one
cross-stitch a sampler or pillow with your baby's name, birth date, etc.
make blankets, caps to donate to your local hospital for the parents of other babies who will die
make a goodparenthood for a needy child
make a memory box to keep all the keepsakes of your baby.
continued birthday celebration: have an "I Love You Cake" for your baby to celebrate the day of his birth.
For pictures and many other ideas, please visit our pinterest page!
Last updated March 15, 2021